Main content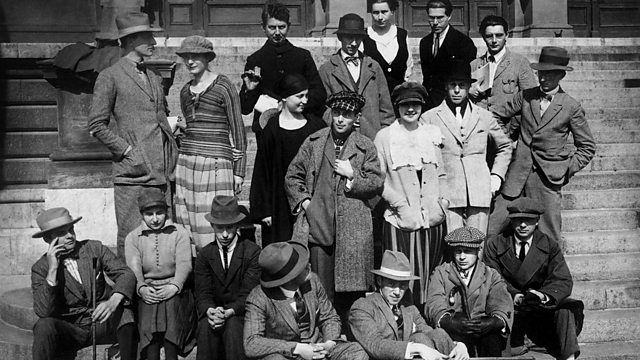 Merzman: The Art of Kurt Schwitters
Influential modern artist-poet Kurt Schwitters was driven by the Nazis to flee Germany for Cumbria, where he died in poverty, leaving his last, most ambitious work in a barn.
It took a long time for the British artworld to recognise the influence of Kurt Schwitters, a German artist who died in Cumbria just after the end of World War Two. But in 2011, the Lake District barn he worked in during his last days was rebuilt stone for stone in the West End of London, and in 2013 a major retrospective of Schwitters' work will open at Tate Britain. In this programme, Bob Dickinson explains why Schwitters has become so highly regarded, and traces Schwitters' journey from Hannover to Cumbria, where he visits the original barn in Elterwater where Schwitters' final, most ambitious work began to be constructed - and Newcastle on Tyne, where that sculpture, built on to one complete wall of the barn, was transported during the 1960s.
Kurt Schwitters was one of the great European modern artists - a founder of the Dada movement in Germany, and an inventor of the technique we now call collage - piecing artworks together from fragments of found images, print, text, or discarded objects which even included rubbish. Eventually he developed a style he called Merz, and started making elaborate sculptures you could walk inside, called Merzbau - the forerunners of today's installation art. But the rise of the Nazis forced Schwitters to flee, leaving his wife and family in Hannover, and moving to Norway and then Britain.
Almost immediately arrested as an enemy alien, Schwitters was incarcerated in the Hutchinson Square camp on the Isle of Man, but on release made his way to London and then the Lake District, where he decided to settle. But he couldn't get art dealers to take his work seriously, and he had to survive by painting pictures and trying to sell them on the streets of Ambleside, where he lived with an English girlfriend he called Wantee - because every time she entered the room she asked him "Want tea?" By the end of the war, Schwitters health was in decline. His German wife had died. His home in Hannover, containing his first and biggest Merzbau construction, had been destroyed by Allied bombing. But in a stone-built barn barn in Elterwater, not far from Ambleside, Schwitters started work on his final, most ambitious project which he called the Merzbarn, encouraged by a grant - and recognition - he had received from the Museum of Modern Art in New York. One wall of the Merzbarn was complete by 1947 when Schwitters died.
The programme includes interviews with experts on Schwitters including the British painter and critic, Bill Feaver, and the curator of Schwitters' archive in Hannover, Dr Isabel Schulz. The Littoral Trust, which administers the Elterwater barn in Cumbria, regularly organises events dedicated to Schwitters, and actuality from several recent events is also included in the programme, including performances of Schwitters' amazing sound poetry that took place in 2011 in the basement of a mill in Bury, Lancs, which once held enemy aliens, including Schwitters.
Last on
Broadcast