Main content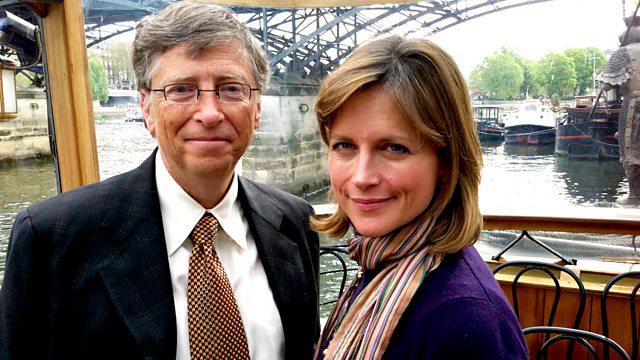 Inside Fortress Bill
Katie Derham takes a unique inside look at the charitable foundation set up by Microsoft billionaire Bill Gates and evaluates its power, aims and global influence.
Katie Derham takes a 'warts and all' look at the Bill and Melinda Gates Foundation and examines the immense political power and global influence that it now wields.
In June 2008 Bill Gates retired from the day to day running of Microsoft and began to devote his time to distributing his fortune. Now the Foundation's fund, swelled by a $31 billion pledge over ten years from Warren Buffett in 2006, is estimated at $33.5 Billion making it the world's largest grant-giving organisation giving away up to $4billion a year. Gates' views are now welcomed by world leaders, he addressed the G20 in November of 2010, and the man credited with putting computers into every household, is now fighting a battle to save American Education, beat malaria, TB and polio. His status as a great philanthropist is not up for debate.
However, this is a sharp contrast with his former persona of ruthless businessman flaunting competition law, buying off rivals and pursuing his goals with a vengeance. Critics believe his market-led philosophies can distort the picture, allowing Governments to be let off the hook, causing a brain drain in countries where they are backing aid, and the way that funds are distributed seems to be at the whim of the co-chairs who are beyond any form of accountability.
In this programme, Katie Derham has been given unique access to key decision makers at the Gates Foundation in Seattle, follows Bill Gates as he lobbies European opinion formers in Paris, and hears how some of the grantees view their relationship with the richest man in the world.
Producer: David Prest
A Whistledown Production for BBC Radio 4.