Main content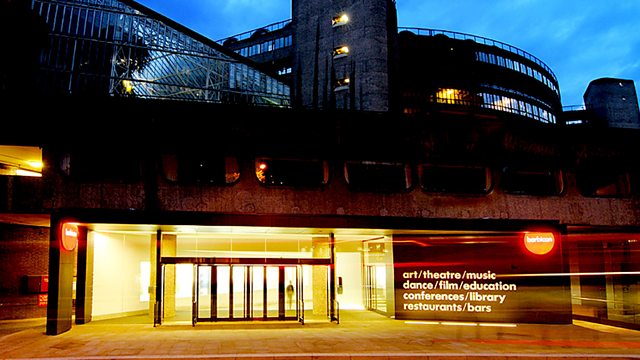 Petroc Trelawny presents Oliver Knussen conducting the BBC Symphony Orchestra. Myaskovsky: Symphony No 10 in F minor. Alexander Goehr: When Adam Fell (world premiere).
Live from The Barbican, London.
Presented by Petroc Trelawny
Oliver Knussen conducts the BBC Symphony Orchestra in a fascinating programme of music by Myaskovsky, Castiglioni and Schoenberg, and the world premiere of a new BBC commission by Alexander Goehr, When Adam Fell.
Myaskovsky's 10th Symphony provides the dramatic highlight to this concert conducted by the BBC Symphony Orchestra's Artist in Association, Oliver Knussen, with its tremendous portrayal of a drowning, a curse and a bronze horseman coming to life. But in its perfectly chiselled way, the Concerto for Orchestra by Niccoló Castiglioni is no less striking. Alongside them are the orchestral version of Schoenberg's masterly first Chamber Symphony and a new work from Alexander Goehr, When Adam Fell. Myaskovsky characterised his 10th Symphony as 'very massive, monolithic, cast-iron'. It received its premiere in 1928 by an workers' collective orchestra, which naturally did not have a conductor, leading to rather disappointing results. However the work has subsequently become one of the most performed of his 26 completed symphonies. Alexander Goehr's When Adam Fell - receiving its world premiere tonight - uses material from a Bach chorale, which gives the piece its title. Goehr describes it as 'a kind of chorale prelude' for orchestra. Castiglioni's Concerto for Orchestra also owes a debt to the music of the Baroque - Paul Griffiths describes it as 'an opportunity for a group of instruments to play together, enjoying each other's company and exerting themselves in dashes of virtuosity.' Schoenberg's Chamber Symphony, heard here in its version for large orchestra, was completed whilst the composer was on holiday in 1906. The work, it was reported, 'filled him with joy' and its hugely rich musical landscape provides the perfect conclusion to Oliver Knussen's programme.
Myaskovsky: Symphony No 10 in F minor
Alexander Goehr: When Adam Fell
8.10 Interval - Twenty Minutes (see separate billing)
Castiglioni: Concerto for Orchestra
Schoenberg: Chamber Symphony
BBC Symphony Orchestra
Oliver Knussen (conductor).
More episodes
Previous
You are at the first episode