Main content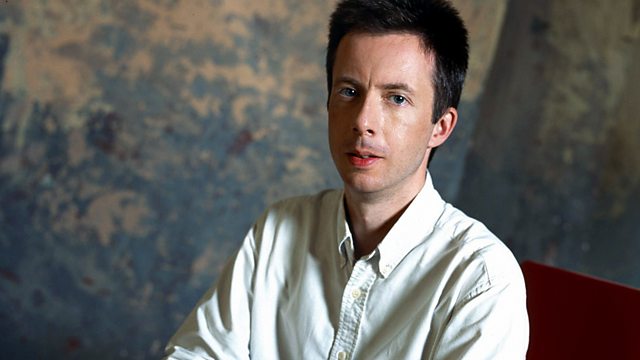 12/01/2012
John Shea presents piano music by Mussorgsky and Grieg.
John Shea presents piano music by Mussorgsky and Grieg
12:31 AM
Mussorgsky, Modest [1839-1881]
Pictures from an exhibition for piano
Fazil Say (piano)
1:04 AM
Klami, Uuno (1900-1961)
Kalevala Suite, Op.23
Finnish RSO, Mikko Franck (conductor)
1:42 AM
Ligeti, György (1923-2006)
Lux Aeterna
Norwegian Soloists' Choir, Grete Helgerød (conductor) in the Church of the HolSpirit, Copenhagen, from Copenhagen Choir Festival 1994
1:52 AM
Grieg, Edvard [1843-1907]
Slatter Op.72 for piano
Ingfrid Breie Nyhus
2:31 AM
Rachmaninov, Sergey (1873-1943)
Rhapsody on a theme of Paganini for piano and orchestra (Op.43)
Nikolay Evrov (piano), Bulgarian National Radio Symphony Orchestra, Vassil Stefanov (conductor)
2:55 AM
Franck, Cesar [1822-1890]
Sonata for violin and piano (M.8) in A major
Alina Ibragimova (violin), Cédric Tiberghien (piano)
3:22 AM
Wirén, Dag (1905-1986)
Serenade for Strings (Op.11)
Swedish Radio Symphony Orchestra, Niklas Willén (conductor)
3:37 AM
Ibert, Jacques (1890-1962)
Trois Pièces Brèves
Galliard Ensemble BBC New Generation Artists
3:45 AM
Pärt, Arvo (b. 1935)
Spiegel im Spiegel
Morten Carlsen (viola), Sergej Osadchuk (piano)
3:52 AM
Berezovsky, Maxim Sosontovitch (1745-1777)
Do not reject me (Ps.70)
The Seven Saints Chamber Choir, Dimitar Grigorov (conductor)
4:01 AM
Gilse, Jan van (1881-1944)
Concert Overture in C minor
Netherlands Radio Symphony Orchestra, Jac van Steen (conductor)
4:11 AM
Suchon, Eugen (1908-1993)
Elegy and Toccata for piano, strings and percussion
Klára Havlíková (piano), Slovak Radio Symphony Orchestra Bratislava,Ondrej Lenárd (conductor)
4:20 AM
Marcello, Alessandro (1669-1747)
Concerto in D minor
Jonathan Freeman-Attwood (trumpet), Colm Carey (organ of the Dutch Church, Austin Friars, London)
4:31 AM
Vivaldi, Antonio [1678-1741]
Concerto in G minor for Strings and continuo (RV.157)
Il Giardino Armonico
4:37 AM
Tchaikovsky, Pyotr Il'yich (1840-1893)
Dumka - Russian rustic scene for piano (Op.59)
Duncan Gifford (piano)
4:47 AM
Svendsen, Johan (1840-1911)
Norwegian artists' carnival (Op.14)
Norwegian Radio Orchestra, Ari Rasilainen (conductor)
4:54 AM
Schumann, Robert (1810-1856)
Drei Fantaisiestucke (Op.73)
Algirdas Budrys (clarinet), Sergejus Okrusko (piano)
5:06 AM
Glinka, Mikhail Ivanovich (1804-1857)
Capriccio Brillante for symphony orchestra on the theme of 'Jota Aragonese'
Slovak Radio Symphony Orchestra, Ondrej Lenard (conductor)
5:16 AM
Salzedo, Carlos (1885-1961)
Concert Variations on 'O Tannenbaum'
Judy Loman (harp)
5:20 AM
Gilse, Jan van (1881-1944)
Trio (1927) for flute, violin and viola
Viotta Ensemble
5:34 AM
Respighi, Ottorino (1879-1936)
Impressioni Brasiliane (1928)
The West Australia Symphony Orchestra, Jorge Mester (conductor)
5:55 AM
Handel, Georg Frideric (1685-1759)
Terpsichore', ballet music
English Baroque Solists, John Eliot Gardiner (conductor)
6:07 AM
Mendelssohn, Felix (1809-1847)
Sextet for piano and strings in D major, Op.110
Wu Han (piano), Philip Setzer (violin), Nokuthula Ngwenyama (viola), Cynthia Phelps (viola), Carter Brey (cello), Michael Wais (bass)
06:30 AM
Radio 3 Breakfast.