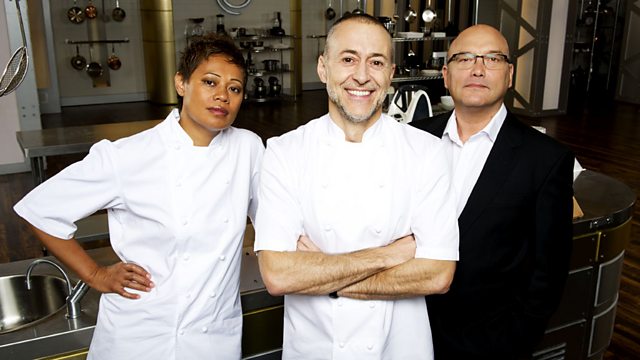 It's Final Week on MasterChef: The Professionals and only three exceptional chefs remain to battle it out for the title. It's time for Michel Roux Jr and Gregg Wallace to turn the heat up to boiling point. The three finalists hit the culinary fast lane cooking at San Pellegrino's second best restaurant in the world: El Celler de Can Roca, in Catalonia.
Double Michelin starred Michel Roux Jr and MasterChef Judge Gregg Wallace challenge the three finalists to make the leap into the gastronomic top league and prove they can cook with the best in the world. The chefs travel to Catalonia in northern Spain to the three Michelin starred El Celler de Can Roca where they are in for the biggest culinary treat of their lives.
Working alongside the creative geniuses - the formidable Roca brothers - they will see the masters at work in all areas of the kitchen, from pastry to wine, before being given the petrifying opportunity of preparing their own dishes for them. Using ingredients from the restaurant's larder and some fresh local produce, they need to embrace El Celler de Can Roca's philosophy of emotional cooking and make the dishes mean more than the sum of their parts. It's a tense time for the chefs who want to prove their worth to the brothers and put everything into their dishes.
Next, the finalists must embrace another tidal wave of pressure: cooking the restaurant's three Michelin star six course tasting menu in service. They have to step up to the Roca brothers' extraordinary level of culinary wizardry, delivering the menu for regulars of El Celler. Mastering cuisine at this level will push their ambitions and nerves to the limit. They have to stay focussed to recreate exquisite dishes that dazzle in their craftsmanship, the likes of which is Baby Squid on Mashed Potato with Paprika served on Cling-film over a bowl of smoke as well a complex dessert paying homage to the region's sheep's milk with seven different elements.
With Michel and Gregg tasting in the dining room alongside the restaurant's regular clientele they need to satisfy at every stage of this mind-blowing challenge.
Last on
Credits
| Role | Contributor |
| --- | --- |
| Presenter | Michel Roux Jr |
| Presenter | Michel Roux Jr |
| Presenter | Gregg Wallace |
| Presenter | Gregg Wallace |
| Director | Clodagh Norriss |
| Director | Clodagh Norriss |
| Series Producer | Rachel Palin |
| Series Producer | Rachel Palin |