Main content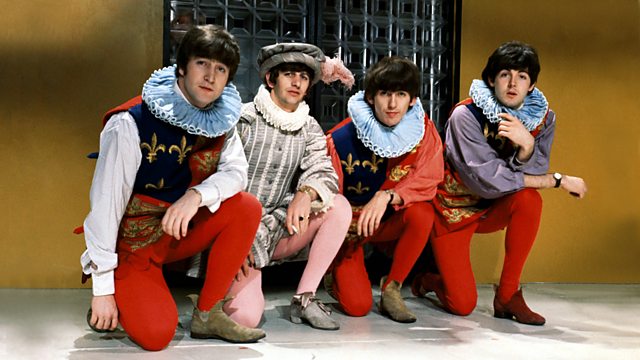 Beatles Christmas
4 Extra Debut. Alexei Sayle explores the Beatles festive fan club recordings, Magical Mystery Tour film and Christmas concerts. From December 2011.
Show business enjoys a cosy relationship with Christmas and as we hear The Fab Four responded with a wealth of festive fan club recordings, appeared in panto and (later) their Boxing Day TV film 'Magic Mystery Tour'. 'Beatle Christmas' hears the best of their rare Christmas message recordings revealing a refreshing sense of fun that helped set the Fab Four apart.
Presenter Alexei Sayle explores how their fan club messages were recorded with comments from the man who wrote the scripts Beatles publicist Tony Barrow. The fan club recordings are featured and reflect the changing stages of the Beatles career and creativity. The programme also reveals the Beatles played two seasons in panto and we hear what was going on back stage . Christmas 1963 saw The Beatles taking to the stage for 16 shows across the seasonal period and it's surprising they took to wearing pantomime costume so well.
The Beatles did a second spell in panto this time playing 21 shows in London Christmas 64 and the programme has comments from supporting acts, singer Elkie Brooks and Barron Knights guitarist Peter Langford. Time is also devoted to the group's Boxing Day broadcast on BBC 1 for their 'Magical Mystery Tour' film and we hears how the movie was made and scheduled for festive family viewing with comments from the film's editor Roy Benson.
Presenter Alexei Sayle takes us on a remarkable musical journey through the Christmas recordings of The Beatles.
Producer: John Sugar
A Sugar Production for BBC Radio 4.