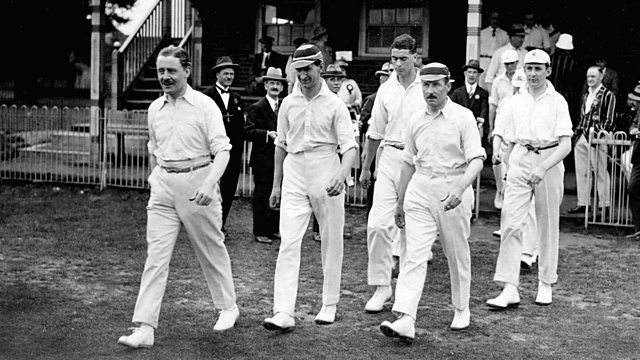 AG Macdonell - England, Their England
Martin Jarvis directs a galaxy of stars in a Classic Serial one-off episode. The cast is led by outstanding Scots actor Tony Curran as Donald.
In this classic 1930s comic novel, a young Scot, Donald Cameron, invalided from the Western Front in 1918, finds himself commissioned to write a book about the eccentricities of the English - through 'a foreigner's eyes'. An enthusiastic innocent abroad, Donald encounters an array of richly comic characters. He attends an absurd country house weekend, enjoys drinks with Fleet Street hacks, attempts some book-reviewing, visits The League of Nations as an MP's private secretary and, memorably, plays village cricket - the most famous fictional cricket match in literature.
The novel is dramatised by Archie Scottney ('Something Fresh', 'Summer Lightning', 'Goldfinger', 'The Mysterious Mr Quin') and who once took 5 wickets for 36 runs.
Martin Jarvis says: 'A joy to direct. The preposterous game of cricket at its heart leaps happily onto the air waves. With Ian Hislop to skipper our all-stars, I felt we had hit some kind of pitch-perfection. The absurdity and blessedness of England and the English remains reassuringly, recognisable.'
Cast:
Donald Cameron .....Tony Curran
Evan Davies ..... Ioan Gruffudd
Mr Hodge ..... Ian Hislop
Tommy Huggins ..... Alfred Molina
Rupert Harcourt .. ... Rufus Sewell
Mr Bloomer ..... Michael York
Sir Henry ..... Ian Ogilvy
Gwennie ..... Jill Gascoine
Pendragon ..... Lloyd Owen
Esmeralda .....Sophie Winkleman
Carolyn Seymour, Julian Holloway, Oliver Dillon, JD Cullum,Kenneth Danziger,
Darren Richardson, Simon Templeman, Alan Shearman, Matthew Wolf, Daisy Hydon.
Sound design: Mark Holden
Producer: Rosalind Ayres
Director: Martin Jarvis
A Jarvis & Ayres production for BBC Radio 4.
Last on