Main content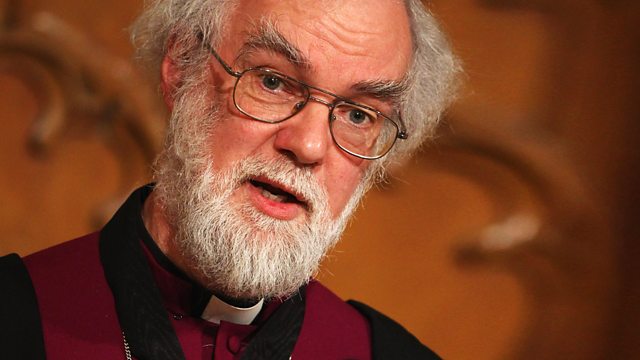 Archbishop of Canterbury Rowan Williams
Emily Buchanan profiles Rowan Williams, poet and scholar, thought by some to be the most talented and intellectual archbishop of Canterbury for the past 1,000 years.
Emily Buchanan profiles the Archbishop of Canterbury and examines his long struggle to stop the Anglican Church from fragmenting. Rowan Williams was tipped at an early age for high office and he is rated as possibly the most intellectually talented Archbishop of Canterbury for a thousand years. Yet after all the high hopes at his appointment, many are disappointed at what they see as a lack of key leadership qualities.
Dragged into seemingly endless rows about gay clergy and women bishops, Williams has had to endure a great deal of abuse from some members of the world's 77 million strong Anglican Communion. His period of office has even been described as a crucifixion. Is he misrepresented by Britain's tabloid press or does he actively court controversy?
His opposition to the Iraq war, his call for reparations for the slave trade and his candid predictions that last summer's riots could easily be repeated have raised eyebrows among parts of the political establishment. In 2008, he provoked an outcry after saying the application of Sharia law in England under certain circumstances was unavoidable.
A former Religious Affairs Correspondent, Emily Buchanan speaks to those who know him well including the Bishop of London, his school friend John Walters, his biographer Rupert Shortt, and the satirist Ian Hislop. She discovers how Rowan Williams' warm and sympathetic character, with the ability to see all sides of a question, is both his great strength and his weakness.
Producer: Lucy Ash.
Last on
Clive Coleman profiles Vincent Nichols, Archbishop of Westminster.
Broadcasts