Main content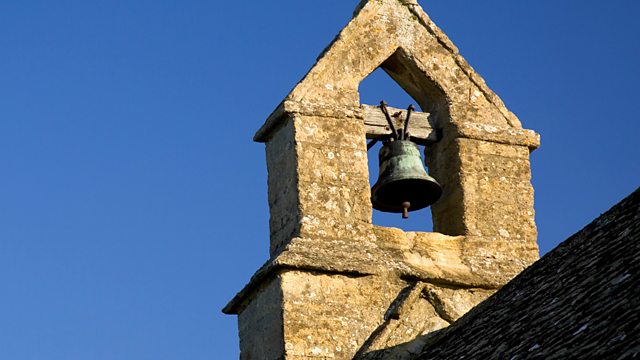 The Rhyming and the Chiming
Words and music on the theme of bells, including poetry by Edgar Allan Poe and a variety of music. Read by Sylvestra Le Touzel and David Troughton.
Words and Music on the theme of bells. Readers Sylvestra Le Touzel and David Troughton.
This is the season for bells, joyful Christmas bells and clamorous New Year peals - and they will feature in this edition of the programme. But there will also be rhyming and chiming from other seasons of life, taking Edgar Allan Poe's onomatopoeic poem as its centrepiece. There are bells from childhood, from marriage, from the ordinary round of life as nostalgically remembered in both city and countryside by Betjeman. The sinister side of the sound of bells is brought to life by Dickens in his atmospheric story "The Chimes", and in the famous scene from "The Nine Tailors" by Dorothy L. Sayers in which Lord Peter Wimsey finds himself in the belltower as the cacophony carries on about him. There are alarums from the battlefield and the gallows humour of the bells of hell going ting-a-ling-a-ling... But this is Christmas and so Longfellow and Tennyson's "Wild Bells" will see us out on a note of celebration and hope for the future.
Music from Liszt, Henze, Loesser, Philip Feeney, Grieg and Elizabeth Poston among others.
Music Played
Timings (where shown) are from the start of the programme in hours and minutes
Victor Hugo, trans. Isabel F. Hapgood

The Hunchback of Notre Dame (excerpt), reader Sylvestra Le Touzel

John Betjeman

Monody on the Death of Aldersgate Street Station, reader David Troughton

Edgar Allen Poe

The Bells, Part I, reader Sylvestra Le Touzel

Edgar Allan Poe

The Bells, Part II, reader Sylvestra Le Touzel

John Betjeman

Bristol, reader David Troughton

Christopher John Brennan

Sweet Silence after Bells, reader Sylvestra Le Touzel

John Bunyan

Upon a Ring of Bells (excerpt), reader David Troughton

Dorothy L Sayers

The Nine Tailors (excerpt), reader David Troughton

Charles Dickens

The Chimes (excerpt), reader Sylvestra Le Touzel

Anne Sexton

Ringing the Bells, reader Sylvestra Le Touzel

Edgar Allan Poe

The Bells, part III, reader David Troughton

Edgar Allan Poe

The Bells, part IV, reader David Troughton

St Sepulchre

ringing of the Execution Bell

Siegfried Sassoon

Joy Bells, reader Sylvestra Le Touzel

Henry Wadsworth Longfellow

I heard the Bells on Christmas Day, reader David Troughton

Alfred Lord Tennyson

Ring out, Wild Bells, reader Sylvestra Le Touzel

Producer Note

The opening scene is Paris first thing in the morning, described in the Hunchback of Notre Dame, with the awakening of a myriad church towers, moving on to Betjeman's elegiac poem on the bells and trains of the City of London, and nostalgia for both days of steam and days of faith. S. S. Wesley's "Holsworthy Church Bells" plays the peaceful tune of  the carillon belonging to this Devon church and then we are off into Poe's epic poem "The Bells" which  starts merrily enough - with sleigh bells and wedding bells.

Leaving Poe aside for a moment, Grieg's gentle Lyric Piece "Bell-ringing" leads to Vaughan Williams' setting of A. E. Housman's "Bredon Hill", a song of tragic lost love, symbolised by bells.  More gentle nostalgia for the distant sound of ringing from Betjeman in "Bristol"  leading to the sense of liquid crystal in the air after the bells cease – "Sweet Silence after bells".

Purcell's anthem "Rejoice in the Lord Always" is nicknamed the "Bell Anthem" from its instrumental effect of descending peals, after which John Bunyan is encountered  comparing himself to a ring of bells, hoping that "naughty boys" will not play havoc with his attempts to keep spiritual harmony. He would surely NOT have approved of the sentiments of "mission doll" Sergeant Sarah Brown after her heady encounter with Sky Masterson ("If I were a bell").

An ominous little scene change from Webern ushers in Lord Peter Wimsey's painful close encounter with the bells in the ringing chamber – it was the bells whodunnit in that story, and Henze's take on Schubert's Erl King, the frightening fairy sprite, makes a fitting background to Dicken's personification of the bells as sinister elfin creatures in his story "The Chimes". The idea is that the bells should do good, not harm, in Anne Sexton's group therapy scene "Ringing the Bells", but it is doomed to well-intentioned failure. Again the tension rises with the opening of Schnittke's first symphony where a percussionist plays merry hell with  bells, while the rest of the orchestra joins the melee  – a fitting prelude to the chaotic and frightening world of the second half of Poe's poem, the finality of the tolling bell and Sassoon's ironic war poem.

But this is Christmas and it would not do to end there – Longfellow and Tennyson look at the mess we're in but find reasons to hope and to celebrate, set here against the joyful whirling pealing of the "Bells at Coblentz".

Producer: Elizabeth Funning

The hidden history of plant-based diets