Main content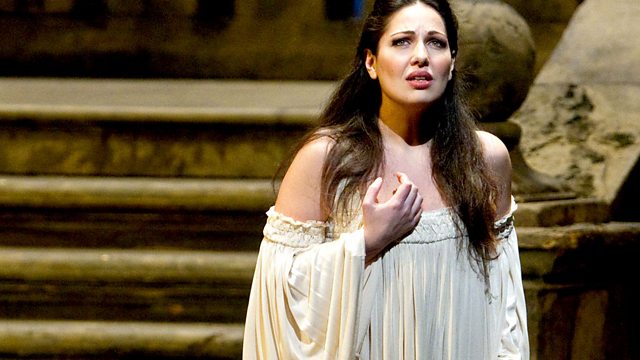 Donizetti's La fille du regiment
From the Metropolitan Opera, New York, Yves Abel conducts a performance of Donizetti's opera La fille du regiment, set in a Swiss village in the Tyrolean Alps.
Donizetti's La Fille du Regiment
Live from the Met
Presented by Margaret Juntwait, with guest commentator Ira Siff.
Donizetti's La Fille du Regiment with Nino Machaidze (Marie) and Lawrence Brownless (Tonio). Yves Abel conducts the Metropolitan Opera orchestra and chorus.
The opera is set in a Swiss village in the Tyrolean Alps, where a French regiment is passing through. They're led by Sergeant Sulpice and the regiment has a "daughter" named Marie - though she's really more like their mascot and their maid. They found her when she was only a baby, and they've raised her ever since.
Marie is in love with a Swiss villager named Tonio. Unfortunately, there's a complication: she's only allowed to marry a member of the Regiment.
The opera is famous for Tonio's aria "Ah! mes amis, quel jour de fête!" which has been called the "Mount Everest" for tenors as it features nine high Cs.
Marie.....Nino Machaidze (soprano)
Tonio.....Lawrence Brownlee (tenor)
Sergeant Sulpice.....Maurizio Muraro (bass)
Marquise of Berkenfeld.....Ann Murray (mezzo-soprano)
Hortensius.....James Courtney (bass)
A corporal.....Roger Andrews (bass)
The Duchess of Krakenthorp.....Kiri Te Kanawa (spoken role)
New York Metropolitan opera orchestra and chorus
Conductor.....Yves Abel.