Main content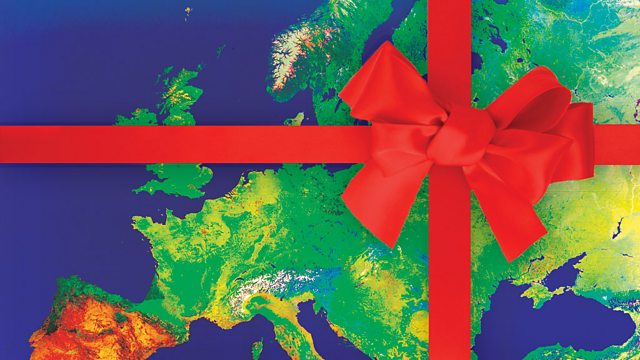 Louise Fryer presents the first part of Radio 3's annual Christmas celebration, with music performed in Denmark, Finland, the Netherlands and the Czech Republic.
Radio 3 celebrates Christmas with its annual day of live and specially recorded concerts from around the European Broadcasting Union. Presented by Louise Fryer.
12:00 St Christian's Church, Christianshavn, Copenhagen, Denmark
The days begins with a concert from the Middle East Peace Orchestra, which is made up of musicians from different ethnic groups from around the Middle East. They'e joined by the DR Vocal Ensemble for a Christmas Concert for Peace, including music from Jewish, Christian and Muslim traditions.
Anon arr Goldschmidt: En rose sa jeg skyde (I saw a rose in bud)
Handel arr MEPO: Messiah Overture
Arr Anders Singh Vesterdahl: Arabian Dance
Gruber arr Goldschmidt: Silent Night (sung in Arabic)
Trad: Nachamu (Comfort ye)
Handel arr MEPO: Comfort ye, my people - Every valley - And the glory (Messiah)
Trad: Oud Taxim
Silesian melody arr Wikander: Dejilig er Jorden (Lovely is the Earth)
Trad Jewish arr Goldschmidt: Channukat Beit (housewarming)
Allvin: Liebesleid
Mendelssohn arr Malmberg: Lied ohne Worte
Handel arr MEPO: For unto us (Messiah)
DR Vocal Ensemble
Middle East Peace Orchestra
Henrik Goldschmidt (conductor)
13:00 Kallio Church, Helsinki, Finland - LIVE
A live concert from Kallio Church in Helsinki, featuring soprano Maria Cristina Kiehr and the Helsinki Baroque Orchestra in a programme of 16th and 17th century Baltic and Mediterranean music.
Malvezzi: Sinfonia
Buxtehude: Herr, wenn ich nur dich hab', BuxWV38
Friderici: Ad perennis vitae fontem
Dijkman: Lamentum
Kirchhoff: Suite a 4
Cazzati: Alma redemptoris Mater
Rossi: Sonata sopra l'aria de Ruggiero
Monteverdi: Confitebor tibi Domine
Maria Cristina Kiehr (soprano)
Helsinki Baroque Orchestra
Aapo Hakkinen (conductor)
14:00 Grote Kerk, Enschede, Netherlands
Ecce mundi gaudium
The female vocalists of the ensemble Discantus perform 12th and 13th century monophonic and polyphonic chant, preserved in manuscripts from all over Europe.
Discantus
Brigitte Lesne (director)
15:00 Church of St Simon and St Jude, Prague, Czech Republic
Musica Florea perform music by one of the most important Bohemian baroque composers, Jan Dismas Zelenka, much admired by JS Bach. We'll hear two of his many sacred vocal works.
Zelenka: Magnificat in C, ZWV107
Zelenka: Missa Nativitatis Domini, ZWV8
Barbara Sojkova (soprano)
Sylva Cmugrova (alto)
Jan Onderjka (tenor)
Tomas Kral (baritone)
Musica Florea
Marek Styncl (director)
16:00 Choral Evensong
17:00 Campo Church, Valongo, Portugal
The vocal ensemble Capella Duriensis is made up of young Portuguese singers who specialise in a cappella music. They perform a programme of Portuguese Medieval and Renaissance music.
Tavener: Icon of the Nativity
Cardoso: Missa Puer qui natus est
Machaut: 3 Ballades
Pérotinus: Alleluia
Traditional (15th-century): Es ist ein Ros entsprungen
Pearsall: In Dulci Jubilo
Capella Duriensis
Jonathan Ayerst (director)
18:00 Rolf Böhme Hall, Konzerthaus, Freiburg, Germany
For the final concert of the day, the Freiburg Baroque Orchestra and Collegium Vocale Ghent perform orchestral and choral music by Bach, and Zelenka's mightly Missa dei filii.
Bach: Brandenburg Concerto No. 1 in F, BWV 1046
Bach: Cantata 'Nun komm, der Heiden Heiland', BWV61
Zelenka: Missa dei filii
Christina Landshammer (soprano)
Damien Guillon (alto)
Thomas Hobbs (tenor)
Peter Kooij (bass)
Collegium Vocale Ghent
Freiburg Baroque Orchestra
Marcus Creed (conductor).
More episodes
Previous
You are at the first episode