Main content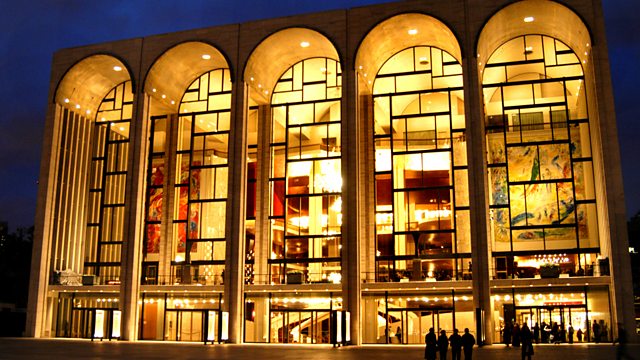 Puccini's Madama Butterfly
Placido Domingo conducts the Metropolitan Opera orchestra and chorus in Puccini's Madama Butterfly. With Liping Zhang (Cio-Cio San) and Robert Dean Smith (Pinkerton).
Puccini's Madama Butterfly
Live from the Met
It's never an easy life being a heroine in a Puccini opera and Cio-Cio-San (Butterfly to her friends) is no exception. The inevitable downward spiral begins when fifteen-year-old Butterfly marries American sailor Pinkerton. Denounced and cursed by her distinguished but hard-up family for giving up her ancestral religion in favour of Christianity, it's not long before she's left by her husband who promises to return 'when the robins build their nests'. A single parent, courtesy of Pinkerton, Butterfly has to wait three years before she sets eyes on him again. And who can blame her if she doesn't like what she sees: not only Pinkerton but his American wife, Kate. There's only one way out for a Puccini heroine in a situation like this: suicide.
With its celebrated set pieces (including 'Un bel dì') and gripping dramatic narrative, 'Madama Butterfly' is one of Puccini's greatest operas. Butterfly is a signature role for Chinese-born soprano Liping Zhang and she's joined by leading American tenor Robert Dean as the fickle American seaman. They're conducted by a man who knows 'Butterfly' from the inside - and who was no mean Pinkerton himself: Plácido Domingo.
Presented by Margaret Juntwait with guest commentator Ira Siff
Cio-Cio San..... Liping Zhang (soprano)
Suzuki..... Maria Zifchak (mezzo-soprano)
Pinkerton.....Robert Dean Smith (tenor)
Sharpless..... Luca Salsi (baritone)
Goro.....Joel Sorensen (tenor)
Prince Yamadori.....Luthando Qave (tenor)
The Bonze.....Daniel Sumegi (bass)
Yakuside.....Craig Montgomery (bass)
The Imperial Commissioner..... David Crawford (bass)
The Official Registrar..... David Lowe (bass)
Cio-Cio San's mother..... Belinda Oswald (mezzo-soprano)
The aunt.....Jean Braham (soprano)
The cousin.....Laura Fries (soprano )
Kate Pinkerton.....Jennifer Johnson (mezzo-soprano)
New York Metropolitan Opera Orchestra and Chorus
Conductor..... Plácido Domingo.