Main content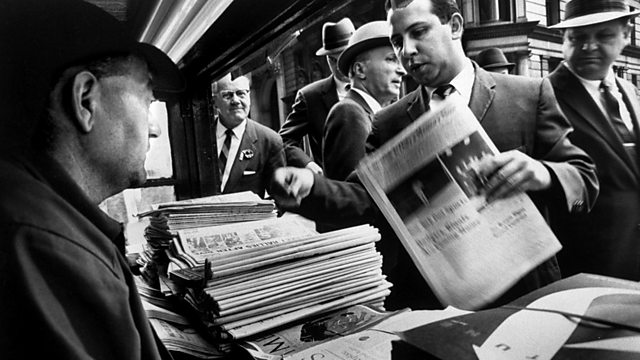 Prince Albert
Peter Snow turns the pages of a London Daily News carrying reports of the death of Albert Prince Consort in December 1861. A Random Edition anniversary special.
Prince Albert, consort to Queen Victoria and the love of her life, died on December 14th 1861. Nine children were left fatherless.
To mark the 150th anniversary of Albert's demise, Peter Snow uses reports and comment in a single copy of an archive newspaper - the London Daily News - to describe the circumstances of his death and the significance of his loss to the nation. The Daily News carries detail of Albert's slow decline in his last days and the team of doctors who were powerless to revive him. There are accounts of how news of his death spread, not least via the ringing of church bells in a world without radio and telephone. We learn of Victoria's imminent departure for Osborne House on the Isle of Wight, unable to face her husband's funeral. There are accounts of services at which churchgoers grieved at the nation's loss. We read fulsome assessments of Albert's importance in the field of the arts...and of his crucial role in the success of the 1851 Great Exhibition. All these features of the coverage will be brought alive, along with other reports in the paper less obviously a significant part of the story.
With the Daily News reporting the Prince of Wales's return to Windsor from Cambridge University, Peter Snow assesses how far Albert's admonitory visit to his wayward son a few days before in terrible weather contributed to his demise. The Daily News also carries detail on preparations for possible hostilities with the Northern US states, during the Civil War: how far was Albert instrumental in his last days in averting conflict?
The programme includes the latest thinking on Albert's fatal illness, and assesses his behind-the-scenes political significance. Locations include Madingley Hall in Cambridge, Osborne House, Windsor Castle and the Royal Albert Hall
Contributors include: Helen Rappaport, latest biographer of Prince Albert.
Historians Kathleen Burk, Roland Quinault, Adam Smith and Rohan McWilliam.
Michael Hunter of Osborne House. Sue Pemberton of Madingley Hall, Cambridge.
Producer: Andrew Green
An Andrew Green production for BBC Radio 4.
Last on
Broadcast