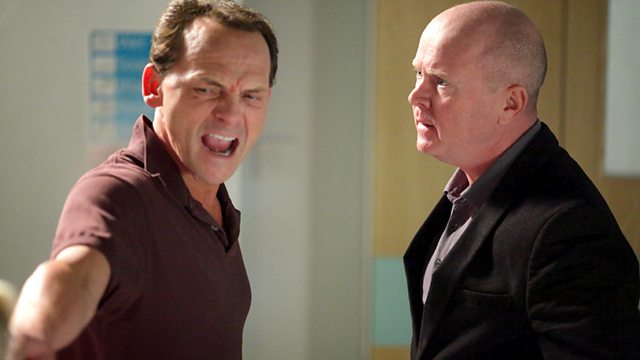 09/12/2011
As Lola's loaded into an ambulance, Billy reveals he told Lola about the threats Phil's received. Later, Phil ransacks Billy's flat searching for Jack's file. Shirley thinks Lola was only after money and worries that Phil could be charged with assault. At the hospital, Billy, Ben and Jay are relieved when Lola's given the all clear, but are alarmed when a social worker starts asking questions. Billy persuades Lola to say she slipped, but warns Phil he won't cover for him if Lola's baby's taken away. When Lola complains of feeling funny, she's given a scan and is emotional to see her baby. Billy's overwhelmed when Lola admits she loves him. Returning home, Billy's collared by DS Kain who reveals his fingerprints were on some stolen goods dug up in the allotments and arrests him.
Derek supports Carol when she clashes with Shirley and tries to convince her he's changed. Derek later goads Pat, telling her Carol's agreed he can stay. Carol denies it, but suggests Derek stick around. Derek tells her it's time to move on, but later breaks into the Car Lot. Pat thinks Carol's stupid for believing Derek's changed. Agitated, Pat's struck by a pain in her chest. When questioned by Carol, she reveals she's taken out a loan to help Simon and she's missed a payment - they could lose everything.
When Yusef enquires about her argument with Denise, Zainab insists it doesn't matter. Despite her family's worries, Zainab proceeds with the ceremony and is later led upstairs by Yusef to celebrate their wedding night.
Denise is upset about her argument with Zainab, Kim thinks she needs to look to the future and ropes her into a tarot reading. When Rose predicts a new love, both Jean and Kim are sure it's for them.
Last on
Credits
| Role | Contributor |
| --- | --- |
| Phil Mitchell | Steve McFadden |
| Shirley Carter | Linda Henry |
| Billy Mitchell | Perry Fenwick |
| Lola Pearce | Danielle Harold |
| Ben Mitchell | Joshua Pascoe |
| Jay Mitchell | Jamie Borthwick |
| Dr Yusef Khan | Ace Bhatti |
| Zainab Khan | Nina Wadia |
| Syed Masood | Marc Elliott |
| Amira Masood | Preeya Kalidas |
| Tamwar Masood | Himesh Patel |
| Afia Masood | Meryl Fernandes |
| Masood Ahmed | Nitin Ganatra |
| Denise Fox | Diane Parish |
| Kim Fox | Tameka Empson |
| Pat Evans | Pam St Clement |
| Carol Jackson | Lindsey Coulson |
| Derek Branning | Jamie Foreman |
| Rose Cotton | Polly Perkins |
| Executive Producer | Bryan Kirkwood |
| Director | Daniel Wilson |
| Writer | Richard Lazarus |
| Jean Slater | Gillian Wright |
| DS Kain | Joe Tucker |
| Hayley | Martine Brown |
| Nurse Green | Tala Gouveia |