Main content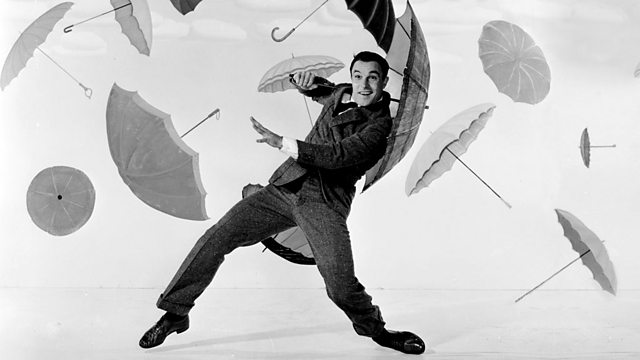 Dancing In The Rain: Gene Kelly
Len Goodman profiles the Hollywood legend. With original contributions from actress Leslie Caron, Matthew Morrison of Glee, daughter Kerry Kelly and choreographer Matthew Bourne.
Len Goodman celebrates the magical feet of a Hollywood legend, 100 after his birth in 1912.
He danced in the rain, he danced on the banks of the river Seine and he danced on the town in New York. Gene Kelly danced with charisma, athleticism, personality and style in memorable numbers such as I Got Rhythm, For Me and My Gal, 'S Wonderful and of course, Singin' in the Rain.
This documentary features original interviews with those who knew, admired and learned from Gene Kelly. Leslie Caron his romantic lead in An American in Paris is one of the last remaining co-stars from Hollywood's Golden Era. She recalls their initial introduction and the gruelling filming schedule, praising Kelly's approach not just to choreography but also to directing behind the lens.
Daughter Kerry Kelly Novick speaks fondly of a doting father who loved to learn and pass on knowledge, recalling encyclopaedia sessions in the red leather armchair of the study at home. But it wasn't all about hard work and learning. Kelly loved to entertain and Kerry remembers the legendary parties at the family home.
Matthew Morrison plays the role of teacher Will Shuester in the hit TV series Glee and attributes his love of dance to Kelly. Morrison offers a rare glimpse behind the scenes of Glee during the filming of the episode called The Substitute in which he broke a finger recreating the routine from Make 'Em Laugh and endured a miserable day shooting the mash-up of Singin' in the Rain and Rihanna's Umbrella wearing soaking wet wool suits.
Choreographer Matthew Bourne acknowledges the contribution Kelly made to dance on film and the influence he had on his own approach to choreography. "Those images from Singin' in the Rain are embedded on my brain and I'm constantly drawing from them".
There are further contributions from biographer Ruth Leon, dance historian Rusty Frank and lecturer Kelli Marshall; as well as archive interviews with Debbie Reynolds, Stanley Donan, and the man himself, Gene Kelly.
Last on
Broadcasts