Main content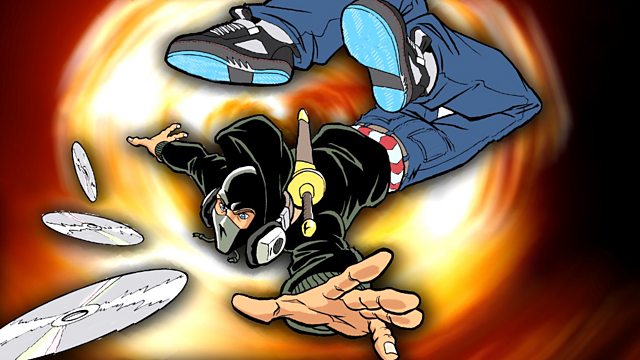 Jaguar Skills and his Amazing Friends
Jaguar Skills and His Amazing Friends sit in for Kissy Sell Out.
With guest mixes from Carl Cox, Fake Blood, Artful Dodger, DJ's@War, Adam F, Deacon Rose, Artwork, Satiago and Bushdo, Taku Takahashi, Tommy Trash, Chrissy Chris and Smutlee.
Yes - that's right. All of them in one actual show!
Music Played
Jaguar Skills – Intro

Wu-Tang Clan

Bring The Rukus

Futurebound

Blind Cobblers Thumb (Tantrum Desire Remix)

Jaguar Skills feat. Lee Majors & A-Clay

Dangerous Jag Part 7

Shoot All Hypsers

I Only Work With Ninjas

Adam F Mix (Uk Bass)

David Unison

Poter Robinson (Remix)

deadmau5

Raise Your Weapon (Madeon Remix)

Skrillex & Knife Party

Zoology

Knife Party

Internet Friends

Adam F & Horx Accapella

Shut the lights off

Swedish House Mafia & Knife Party

Antidote

Adam F & Sonic C

Dubplate

Pitbull & Afrojack

Give Me Everything Tonight (Adam F remix)

Steve Angello

Rave n Roll

Buraka Som Sistema

Hangover (Caspa Remix)

Adam F

Rain (Adam F & Cory Enemy remix)

Adam Buxton

Adam Buxton

Party Pom Pom

Crystal Clear & Zen

Ultrasound

Burro Banton

Babbder Dan Them

Danny Wilson

Mary's Prayer

DJ@War

Untitled

DJ@War (Electro)

DJ@War & Jaguar Skills

9 Levels of Power (Acapella)

Ferry Corsten

Check It Out (Bassjackers Remix)

DJ@War

Pinball (Acapella)

Dada Life

Happy Violence (DJ@War Smash-Up)

Duck Sauce

Big Bad Wolf (Dada Life Remix)

Artful Doger

Untitled

Artful, The Original Artful Dodger Dodger (Uk Garage)

Indo

R U Sleeping (Bump and Flex mix)

Antonio

Hyperfunk (sample)

Tina Moore

Never Gonna Let You Go (Kelly G's Bump & Go Mix)

Artful Dodger Feat. Craig David

What Ya Gonna Do?

Artful Dodger Feat. MC Alistair

R U Ready (intro)

Donae'o

Check My Swagger Out

Toddla T Feat. Shola Ama

Take It Back (Club Edit)

Original Dodger

Twenty Four Seven (Dubaholics Remix)

Armand van Helden

Funk Phenomena (Acapella)

Shakedown

At Night (Acapella)

De La Soul

All Good? (MJ Cole Remix) (feat. Chaka Khan)

Remix Artist: MJ Cole.

187 Lockdown

Gunman (sample)

DJ Luck & MC Neat

Little Bit Of Luck

Wildchild

Renegade Master (Acapella)

Artful Feat. Kal Lavelle

Could Just Be The Bassline (ArtOfficial Club Mix)

Daft Punk

Harder Better Faster stronger (Acapella)

Little Ginger B****** (Mash Up Party)

Easy Star All‐Stars

Bed Of Rose

Redlight feat. Ms Dynamite

What you talking about

Wideboys, Majestic Feat B-Live & Boy Better Know

In the V.I.P

Creataxman

Beeny Roy Spesh

Kissy Sell Out VIP Freestyle

Little Ginger B****** and Vitamin Caesar Rap

Deacon Rose (Electro)

Untitled

ABC News Theme (Pendulum Remix) ()

Light Year

5 Girls (Harvard Bass Remix)

ZZT

Party's Over Los Angeles

Totally Enormous Extinct Dinosaurs

Garden (Doneao Remix)

Julio Bashmore

Battle for Middle You

The Count & Sinden

Future (Canblaster Remix)

Metronomy

The Bay (Erol Alkan Remix)

Jaymo & Andy George

Aquarium

Duck Sauce

Big Bad Wolf (Gesaffelstein Remix)

Brodinski

Let the Beat Control Your Body

Lana Del Rey

Video Games (Joy Orbison Remix)

Alter Ego

Rocker (Erol Alkan Remix)

Azari & III

Manic (Finger Prince 'Static Situation' Remix)

Switch

Still Love You (Heavyfeet Remix)

Peo De Pitte

Who Do You Love

Major Lazer - Pon De Floor

Justin Martin and Ardalan

Lezgo

Radiohead

Lotus Flower (SBTRKT Remix)

Felix da Housecat

Silver Screen Shower Scene (Thin White Duke Remix)

Artwork (Dub Step)

24Hour Experience - Together

Tuff Jam

Don't Wanna Work

Devine Soul

Shake That Ass

Antonio

Hyperfunk mind body and soul

Untitled

DJ Nnarrows- Saved Soul

Sounds Of Da Future

Sounds Of Da Future

Benga and Skream

Judgement

Untitled

Skream- Request Line

Untitled

Magnetic man- Fire

Untitled

Redlight feat. Miss Dynamite- What You Talkin About

Magnetic Man

Certified Banger

Satiago And Bushdo (Chicago House)

Chocolate Puma & Gregor Salto

Tragito De Ron

Prok & Fitch

Cabala (Alex Kenji dub)

Romanthony

Let Me Show You Love

Stefano Noferini

F****** House Music

Santiago & Bushido

Chi MF

Santiago & Bushido

Rhythm For Me (Alternate Mix)

Jaguars Skill & Dj@War

9 Levels of Power (Santiago & Bushido Remix)

Santiago & Bushido

Smoke Screen

Riva Starr & Fatboy Slim

Get Naked (dub)

Paul Johnson

Feel my MF Bass

Worthy & Eats Everything

Tric Trac

Green Velvet

Answering Machine (Santiago & Bushido Remix)

Carl Cox (Techno)

Usual Times

Dowalve (Carl Cox mix)

Untitled

Carl Cox and Jon Rundell- Twisted Machine

Carl Cox

Nexus -(Fomao remix)

Loops of Fury

We Unfold (Plumps Remix)

Micheal Gray

Are You Ready For This

Rage Against the Machine

Killing In The Name (Booty mix)

Joe Brunning

Now Let Me See You Work

Layo & Bushwacka!

Love story (Matt Samuels remix)

Dome Patrol

Cutting Edge (Carl Cox and Julika remix)

HEATH

9mm (Eric Powell remix)

The Prodigy

Voodoo People (Pendulum Remix)

Drumsound & Bassline Smith

Close

Taku Takahashi (Japanese Electronica)

Untitled

Star Trek Theme Tune

Aquasky, Ragga Twins, Mr Thing, Mtek & Pedro Slimer

Superbad

Skepta

Hold On (Jacob Plant Remix)

The Whip

Secret Weapon (Alex Metric Remix)

TC feat. Jakes

Don't Play

Duck Sauce

Big Bad Wolf (Dada Life Remix)

Tittsworth & Alvin Risk - Pendejas (JFK Edit)

Beastie Boys

Intergalactic

Afrika Bambaataa & Soulsonic Force

Planet Rock

Beyoncé

Countdown (Jack Beats Rework)

Untitled

Rocky Theme Tune

Major Lazer - Original Don (Crookers Remix)

Major Lazer - Pon De Floor

Kyary Pamyu Pamyu vs. Major Lazer

Pon De Floor

London Elektricity Feat. Amwe

Lon 8 Pm Tyo 4 Am

High Contrast & Underworld feat. Tiesto

The First Note Is Silent

Tommy Trash (Electro)

Justin Timberlake - My Love (DFA remix)

Nirvana

Polly Wants A Cracker

Culture Club

Do You Really Wanna Hurt Me

Daft Punk and Sandwiches

Teachers (accapella)

Pino D'Angiò

Ma Quale Idea

Rod Stewart

Da Ya Think I'm Sexy?

Smutlee (Bashment House)

Vybz Kartel

Freaky Gal (Instrumental)

Ricky Blaze

Wine Pon Di Floor

Natalie Storm

Smutlee Dub

To-Isis

Come Here Girl (DJ Theory Remix)

Cham

Ghetto Story (Smutlee Edit)

Mescal Kid and Ms Thing

Majic (Smutlee Edit)

Major Lazer

Original Don (feat. The Partysquad)

Chrissy Chris (Drum & Bass)

Total Science & SPY

Gangsta

Hoodlum & Wickerman

Na Fool Me Again

Emeli Sandé

Daddy (Fred V & Grafix Remix)

Wilkinson

Tonight (After Midnight Mix)

Skepta

(Fred V & Grafix Remix)

DJ Fresh & Pendulum

Kingston Vampires

Danny Byrd

Judgement Day VIP

Fred V & Grafix - One of These days VIP

DJ Hazard

Killers Don't Die

Demo & Cease

Ladies Night

Camo & Krooked

Hot Pursuit

Doc Scott

Here Comes the Drums Remix

Sugar Bear

Don't Scandalize Mine

"Fast" Eddie Smith

YoYo Get Funky

Jungle Brothers

I'll House You

Adventures of Stevie V

Dirty Cash

Cookie Monsta

Can You Guess What It Is Yet (FuntCase Remix)

Flux Pavillion & Skism

Jump Back

Labrinth

Earthquake (Noisia Remix)

Emalkay

When I Look At You

Skrillex

First of the Year

Document One

Ace in the Pack

Stinkahbell

Something in your eyes

Nero - Crush on you (Kill Sonic Remix)

Broadcasts

BBC Radio 1

,

BBC Radio 1 Scotland

,

BBC Radio 1 Wales

&

BBC Radio 1 N. Ireland