Main content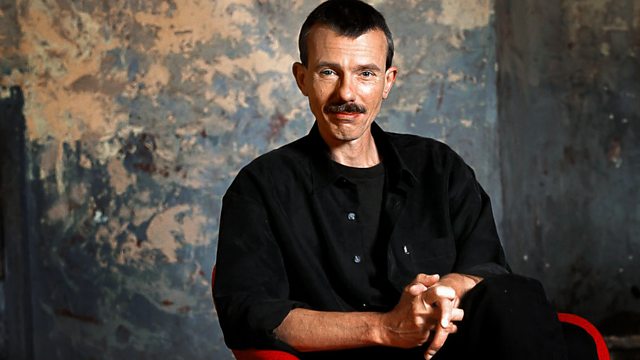 03/12/2011
Jonathan Swain presents an archive performance of Messiaen's Turangalila Symphony.
Jonathan Swain presents an Archive performance of Messiaen's Turangalila Symphony
1:01 AM
Messiaen, Olivier [1908-1992]
Turangalila-symphonie
Yvonne Loriod (piano), Jeanne Loriod (ondes martinot); Netherlands Philharmonic Orchestra, Jean Fournet (conductor)
2:19 AM
Scriabin, Alexander (1872-1915)
3 Etudes (Op.65)
Roger Woodward (piano)
2:26 AM
Chopin, Frédéric (1810-1849)
Four Nocturnes: Op.27 No.1; Op.27 No.2; Op.37 No.1; Op.37 No.2
Dubravka Tomsic (piano)
2:50 AM
Scriabin, Alexander (1872-1915)
Sonata No.9 'Black Mass' (Op.68)
Tanel Joamets (piano)
3:01 AM
Svendsen, Johan (1840-1911)
Octet for strings (Op.3) in A major
Atle Sponberg (violin), Joakim Svenheden (violin), Aida-Carmen Soanea (viola), Adrian Brendel (cello), Vertavo String Quartet: Øyvor Volle (violin), Berit Cardas (violin), Henninge Landaas (viola), Bjørg Værnes Lewis (cello)
3:54 AM
Mozart, Wolfgang Amadeus (1756-1791)
Divertimento in D major (KV 136)
Slovak Chamber Orchestra, Bohdan Warchal (director)
4:06 AM
Dussek, Jan Ladislav (1760-1812)
Sonata for piano (Op.35 No.2) in G major
Andreas Staier (Broadwood fortepiano of 1805)
4:21 AM
Bersa, Blagoje (1873-1934)
Idila (Op.25b) (1902)
Croatian Radio Symphony Orchestra, Mladen Tarbuk (conductor)
4:29 AM
Bach, Johann Sebastian (1685-1750)
Fürchte dich nicht, ich bin bei dir (BWV.228)
Tafelmusik Chamber Choir, Tafelmusik Baroque Orchestra, Ivars Taurins (conductor)
4:37 AM
De Vocht, Lodewijk (1887-1977)
Towards a Higher Light
Luc Tooten (cello), Vlaams Radio Orkest , Jan Latham-Koenig (conductor)
4:45 AM
Beethoven, Ludwig van (1770-1827)
Overture from the Incidental music to König Stephan (Op.117)
Toronto Symphony Orchestra, Andrew Davis (conductor)
4:53 AM
Grunfeld, Alfred [1852-1924]
Soirees de Vienne for piano, Op.56 - concert paraphrase on themes of Johann Strauss (Son)
Benjamin Grosvenor (piano)
5:01 AM
Berlioz, Hector (1803-1869)
Overture to Les Franc-juges (Op.3)
Bergen Philharmonic Orchestra, John Nelson (conductor)
5:13 AM
Chédeville (Le Cadet), Nicolas (1705-1782)
Les Saisons Amusantes Part IV (L'Hiver)
Ensemble 1700 - Dorothee Oberlinger (recorder/director)
5:21 AM
Pearson, Leslie (b. 1931)
Dance Suite - after Arbeau
The Graham Ashton Brass Ensemble
5:30 AM
Borgstrøm, Hjalmar (1864-1925)
Music to Johan Gabriel Borkman
Norwegian Radio Orchestra, Kjell Seim (conductor)
5:43 AM
Haydn, (Franz) Joseph (1732-1809)
Symphony No.104 in D major "London" (H.1.104)
Hungarian Radio Symphony Orchestra; Tamás Vásáry (conductor)
6:08 AM
[Sorkocevic] Sorkochevich, Luka (1734-1789)
Overture in G major, for oboe, 2 violins and continuo
Ulrike Neukamm (oboe), Salzburger Hofmusik, Wolfgang Brunner (harpsichord & director)
6:12 AM
Schubert, Franz (1797-1828)
Phantasy in C major (D.934) (Op.Posth.159)
Thomas Zehetmair (violin); Kai Ito (piano)
6:39 AM
Kraus, Joseph Martin (1756-1792)
Quatre Intermèdes et Divertissements for Molière's comedy 'Amphitryon'
Chantal Santon (soprano - La Nuit), Georg Poplutz (tenor - Hérault), Bonn Chamber Chorus, L'Arte del mondo, Werner Ehrhardt (conductor)
6:51 AM
Svendsen, Johan (1840-1911)
Romance arr. for violin and choir
Borisas Traubas (violin), Lithuanian State Chamber Choir, Sigitas Vaiciulionis (conductor)
07:00
Radio 3 Breakfast.