Main content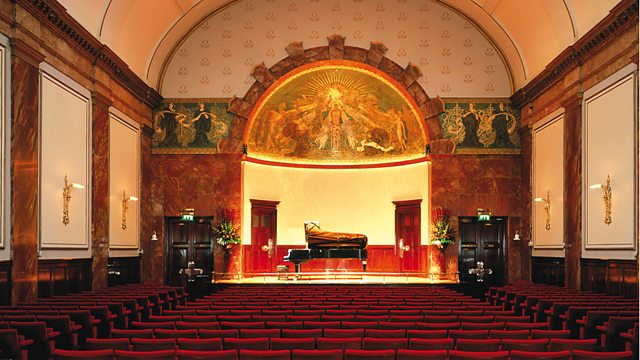 Garrick Ohlsson - Handel, Brahms, Liszt, Scriabin
Garrick Ohlsson in a solo piano recital. Handel: Suite No 2. Brahms: Variations and Fugue on a theme of Handel, Op 24. Liszt: Benediction de Dieu dans la solitude. Plus Scriabin.
Live from Wigmore Hall in London
Presented by Catherine Bott
Handel's Keyboard Suites may not be so well-known as the keyboard music of JS Bach but they contain characteristically brilliant and inventive music. The earliest of the music performed today, the second of Handel's Suites, is a sparkling and radiant opener to the concert. Such was his talent that Handel, the legendary keyboard player, may even have written down the suite after first improvising it in public.
Another Handel keyboard suite and baroque forms generally provided the inspiration for Brahms's superb masterpiece, the Handel Variations. He was just 28 when he composed the work and dedicated it to Robert Schumann's widow, Clara, whom Brahms loved all his life.
As a teenager, Liszt wanted to enter the priesthood, an obvious expression of his deep religious feeling. First his father blocked his attempt to enter the church and later his confessor also dissuaded him. Liszt found a spiritual channel for his faith by embarking on a hugely successful career as a virtuoso pianist and composer. If evidence were needed of Liszt's devotion to God it certainly can be found in his Benediction de Dieu dans la solitude, a soaring, ecstatic religious meditation.
Alexander Scriabin straddled the late-romantic world of Liszt and Chopin and was influenced by both. However, he developed his own very distinct style of piano writing, a somewhat modernist and very Russian sonority paving the way for other great Russian composers of the twentieth century.
The American pianist GARRICK OHLSSON, winner of the 1970 Chopin International Piano Competition, has established himself as a international concert pianist with a massive repertoire including some 80 concertos. After he saw Rubinstein in concert, he once said, his choice of career was set. "I was blasted into orbit. And that's when I said in my mind...when other little boys say, 'I want to be a fireman,' that's what I want to do."
Handel: Suite No.2 in F HWV.427
Brahms: Variations and Fugue on a Theme of Handel op.24
INTERVAL MUSIC: British Composer Awards
Liszt:Bénédiction de Dieu dans la solitude
Scriabin: Trois études Op. 65
Poème Op. 59 No. 1
Prélude Op. 59 No. 2
Fragilité Op. 51 No. 1
Piano Sonata No. 5 in F sharp Op. 53.