Main content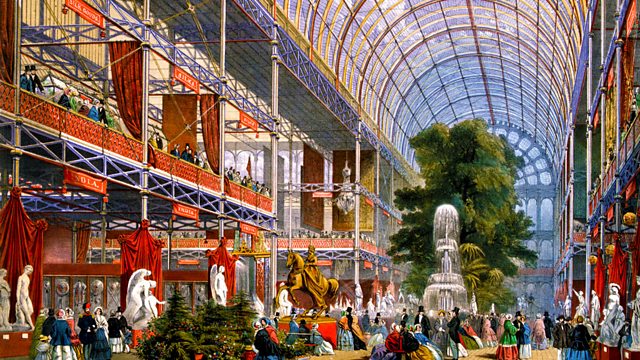 A Great Exhibition
Texts and music celebrating the 1851 Great Exhibition, with readings by Scott Handy and Catherine Harvey. With William Carlos Williams and Wordsworth, plus Morley, Mosolov, Bartok.
This Words and Music is a celebration of The Great Exhibition 1851. The backbone of the programme is made up from descriptions of the rooms by Robert Hunt in his Companion to the Official Catalogue.
Scott Handy and Catherine Harvey read extracts from Robert Hunt together with poetry inspired by the exhibits on show. The display of locomotives in the Central Avenue, for example, leads here to William Carlos Williams' 'Overture to a Dance of Locomotives'. Similarly, China was represented by a model of a joss-house, which is depicted in the programme by Wang Wei's 'Toward the Temple of Heaped Fragrance' and Wordsworth's 'In My Mind's Eye a Temple, like a Cloud'.
The music includes Thomas Morley's 'Hard by a Crystal Fountain', Mosolov's 'Iron Foundry' and Bartok's 'Mikrokosmos'.
Music Played
Timings (where shown) are from the start of the programme in hours and minutes
H. Wood

The Big Show Coming, Scott Handy (reader)

William Makepeace Thackeray

A May Day Ode (extract), Catherine Harvey (reader)

Robert Hunt

'The Glass Fountain' from Companion to the Official Catalogue – Synopsis of the Contents of the Great Exhibition of 1851, Scott Handy & Catherine Harvey (readers)

Robert Herrick

To the Water Nymphs, Drinking at the Fountain, Scott Handy (reader)

Sara Teasdale

The Crystal Gazer, Catherine Harvey (reader)

Robert Hunt

'Locomotive Engines' from Companion to the Official Catalogue – Synopsis of the Contents of the Great Exhibition of 1851, Scott Handy (reader)

William Carlos Williams

Overture to a Dance of Locomotives, Catherine Harvey (reader)

Charles Mackay

The Festival of Labour. Opening of the Great Exhibition of 1851, Scott Handy (reader)

Robert Hunt

'Ceylon' from Companion to the Official Catalogue – Synopsis of the Contents of the Great Exhibition of 1851, Catherine Harvey (reader)

Thomas Moore

Rich and Rare Were the Gems She Wore, Scott Handy (reader)

Robert Hunt

'Gallery West End – The Grand Organ' from Companion to the Official Catalogue – Synopsis of the Contents of the Great Exhibition of 1851, Scott Handy (reader)

Marie Tello Phillips

When the Organ Plays, Catherine Harvey (reader)

John Davidson

The Crystal Palace, Scott Handy & Catherine Harvey (readers)

Robert Hunt

'Central South Gallery – Important Scientific Arrangement' from Companion to the Official Catalogue – Synopsis of the Contents of the Great Exhibition of 1851, Scott Handy (reader)

Ralph Waldo Emerson

The Barometer, Catherine Harvey (reader)

Robert Hunt

'Near the Entrance – Animals of the Indian Jungles' from Companion to the Official Catalogue – Synopsis of the Contents of the Great Exhibition of 1851, Catherine Harvey (reader)

Douglas Stewart

Leopard Skin, Scott Handy (reader)

Robert Hunt

'Turkey' from Companion to the Official Catalogue – Synopsis of the Contents of the Great Exhibition of 1851, Scott Handy (reader)

Samuel Johnson

To Miss —: On Her Giving the Author a Gold and Silk Net-work Purse, Catherine Harvey (reader)

Paul Durcan

The Turkish Carpet, Scott Handy (reader)

Robert Hunt

'China' from Companion to the Official Catalogue – Synopsis of the Contents of the Great Exhibition of 1851, Catherine Harvey (reader)

Wang Wei (transl: Witter Bynner)

Toward the Temple of Heaped Fragrance, Scott Handy (reader)

William Wordsworth

In My Mind's Eye a Temple, like a Cloud, Catherine Harvey (reader)

Iain Bamforth

The Great Exhibition, Scott Handy (reader)