Main content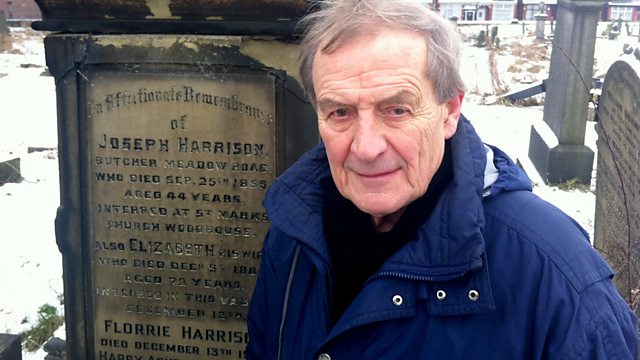 v. by Tony Harrison
Tony Harrison reads his own controversial poem in its British radio debut. Introduced by writer Blake Morrison. (Warning: Contains repeated use of very strong language).
As part of Radio 4's Year of Culture, Tony Harrison, now aged 75, has recorded a new reading of his controversial poem v. - broadcast in this programme alongside a discussion around the poem's significance. This is the first broadcast of v. on British radio.
At the poet's request, the poem is broadcast in its entirety, and as a pure, single-voice recording. It was recorded in his hometown of Leeds.
Harrison wrote the poem in 1985, after being angered by graffiti sprayed on his parent's grave by football fans.
The writer Blake Morrison introduces us to v. and talks to others who were caught up in the storm of controversy around it. Melvyn Bragg, Simon Armitage and Julie Bindell, as well as Gerald Howarth MP, consider its impact.
A filmed version of the poem, directed by Richard Eyre, caused controversy two years later when it was announced that it was to be broadcast on Channel 4. The poem, which includes repeated strong language was denounced by tabloid newspapers as a "torrent of filth". A group of Conservative MPs signed an early day motion to have the programme pulled from the schedules. At that time, Gerald Howarth said that Harrison was "Probably another bolshie poet wishing to impose his frustrations on the rest of us". Harrison retorted that Howarth was "Probably another idiot MP wishing to impose his intellectual limitations on the rest of us".
Others defended the poet's right to use such language to draw attention to the wanton desecration of his family's grave. It was also seen against the backdrop of the Miners' strike and racial intolerance in British cities. Today, Beeston, the poem's setting, is renowned as the home of Mohammad Sidique Khan, one of the 7/7 bombers.
Contains frequent, very strong language.
Poetry Production: Graham Frost
Feature Production: Lucy Dichmont
Producer: David Prest
A Whistledown production for BBC Radio 4.
Last on
Tony Phillips, Commissioning Editor Arts, on revisiting Tony Harrison's controversial poem
Broadcast