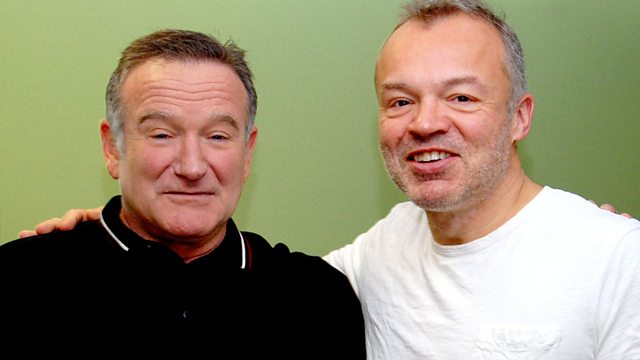 Hugh Laurie & Robin Williams guested
When he wasn't worrying about his virtual horse, Graham chatted to Hugh 'Unlikely' Laurie this week, who revealed he can't stand hearing his own voice, and is still bitter about losing a rowing contest in 1980, back when his thighs were bigger than his girlfriend's waist...
After twelve, Oscar winning actor Robin Williams came in to talk about his new film 'Happy Feet Two', and also lamented the decor in Saddam's palace, told us that his daughter is his hardest critic, and wondered how Elmer Fudd would sound doing Shakespeare.
'I Can't Believe It's Not Better' plumbed new depths this week - no, we didn't think it was possible either - as Gaye in Lancashire inflicted Jasper Carrott's 'Funky Moped' on the nation. As the Pet Shop Boys might say, what have I, what have I, what have I done to deserve this?
In the latest 'Grill Graham', Philip from Kilbride was wanting to know if he could dream of a tight Christmas - basically he didn't want to spend any money - while Vince had a dilemma about a next door neighbour who offered him more than just coffee when he last visited.
And listener Jane Dabbs picked 'Sylvia's Mother' by Dr Hook as her 'Tune With A Tale', a sad tale of a matriarch coming between a man and his true love. Oh, and an annoying phone operator didn't help either...
Last on