Main content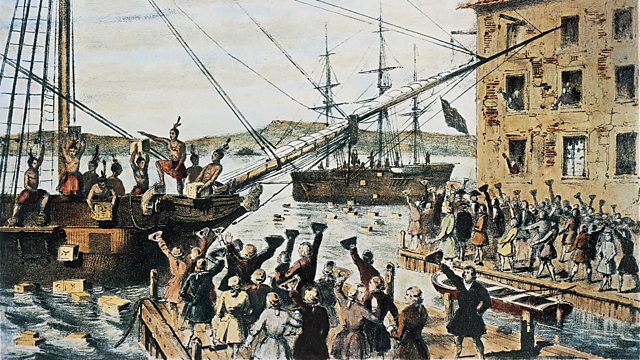 The Real Boston Tea Party, 1773
Michael Portillo examines the real events of the Boston Tea Party and sees how a murky and ambiguous act of vandalism has been recast as a founding moment in American liberty.
In 1773 a group of American revolutionaries threw tea into Boston Harbour to protest against rising British Taxes. The 'Boston Tea Party' has become a founding moment in American History and, ahead of the 2012 presidential elections; a 'Tea Party' is again making the US political weather. This republican small-government movement with real grass-roots power may hold the keys to the White House and it takes both its name and its slogan - no taxation without representation - directly from 1773.
But the Boston Tea party that we remember is a long way from events as they actually happened. The murky and ambiguous real story owes more to the vested interests of smugglers than revolutionary patriotism. No wonder the American founding fathers initially took a dim view of such violence against property. And the tax on tea was actually going down.
Peeling back the layers of history, Michael examines how the tea party has been re-engineered over time. He also discovers that events like the Molasses Act and the Boston Massacre were arguably more significant in fermenting rebellion, forging a national identity and ultimately leading to independence. Both have now been overshadowed by the more romantic idea of the Boston Tea Party.
We have been sold a version of the revolution that is much simpler than at the time. Out of a total population of 2.5 million, eighty five thousand Americans loyal to the British crown were forced to quit their native land. Most went to Britain, neither welcomed nor wanted there, some went west and built new lives under assumed names. Thousands were tarred and feathered or hanged from trees, which later became symbols of the great Revolution.
Last on

More episodes
Previous
You are at the first episode
Broadcast

Featured in...
A collection of programmes relating to tea.

Michael Portillo revisits great moments of history which conceal other important events.