Main content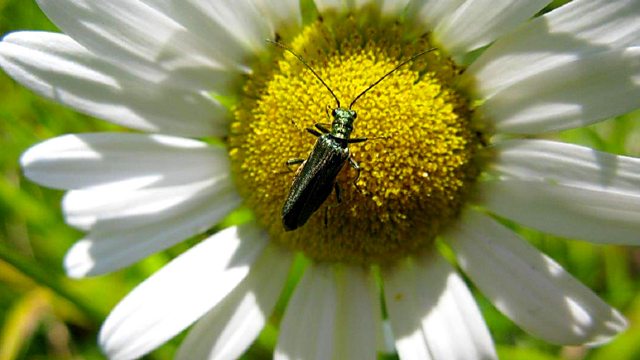 Waxcap Grasslands
Carmarthenshire in Wales is a hot spot for waxcap fungi. Paul Evans joins Dr Gareth Griffiths and Bruce Langridge on a fungal foray with a difference.
West Wales receives a lot of rain, which is perfect for this week's Living World. Paul Evans joins Bruce Langridge from the National Botanic Garden of Wales and Dr Gareth Griffiths, a mycologist from Aberystwyth University on a fungal foray with a difference, as they look for waxcaps hidden amongst grass.
With over a million fungal species in the World, understanding these could be a daunting prospect for someone new to the science of mycology. However waxcaps are a good entry point as in Britain there are just 40 or 50 of these beautiful fungi species. Apart from being wonderful to view, waxcaps are now known to be an indicator species of the health of a grassland, especially below ground.
Waxcaps generally are in decline in Western Europe as unimproved grasslands succumb to agricultural intensification, with increased nitrogen fertilizers being especially harmful to their microrhiza in the soil. So to begin the journey Paul travels to a remote rural chapel where Bruce has been working to improve the habitat of the graveyard for the benefit of waxcaps. The vibrancy of colour these little fungi buttons produce is astounding, but as Gareth recalls, no one really knows why they are so bright as their one and only function is to disperse spores across the landscape.
From there the trio head down the valley to an organic farm to find the fabled ballerina waxcap, a shocking pink candy sweet looking fungi poking through the green sward. Once thought very rare, these waxcaps have now become the iconic flagship for waxcaps. So why should we conserve these waxcap grasslands? Well as both Gareth and Bruce explain they are the visible evidence of a healthy soil ecosystem underneath the grass who's activity is as important as photosynthesis.
Producer Andrew Dawes.