Main content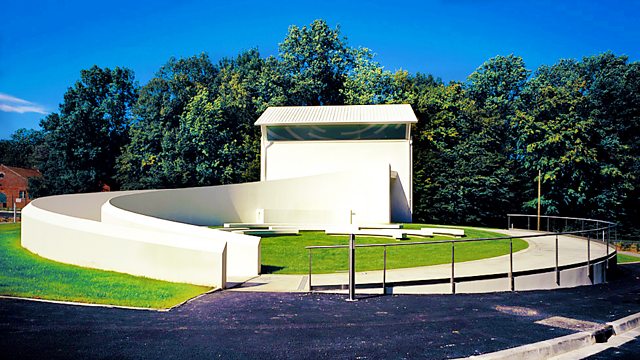 Bleached Bone and Living Wood
Christine Finn visits Wilfred Owen's final refuge in northern France, a forester's house which has been transformed by Simon Patterson into a sculptural tribute to Owen's poetry.
On 4 November 1918 the poet Wilfred Owen was killed at Ors in northern France. Seven days later as bells rang out the Armistice, his parents received the tragic telegram. And then Owen's final letter to his mother, written on 31 October in the cellar of a forester's house, arrived.
For nearly a century the house remained a nondescript, red-brick building. Now it's been transformed by the British artist, Simon Patterson, into a stunning work of art. Neither museum nor memorial, it's a startling white tribute to Owen's life and poetry.
Patterson was first approached by the Mayor of Ors seven years ago. Jacky Duminy, having discovered an important English poet was buried in his cemetery, sought local recognition. The community, helped by the county council, the regional tourist board and Lille-based Art Connexion, finally raised the funds to achieve Patterson's ambitious vision: entirely French funding for a British artist to honour a British poet.
Leaving untouched the cellar where Owen sheltered with his men, Patterson gutted the interior of the house, creating a huge space in which Owen's poems are projected onto glazed walls, while spoken by Kenneth Branagh, and in French by Philippe Capelle. In the cellar the same actors read the poignant last letter home.
Christine Finn first saw the house as a building site; she returned for the preview for the local community, who are the custodians of the artwork. She met Simon Patterson, and the architect Jean-Christophe Denise, who helped realize Patterson's dream. Peter Owen, Wilfred's nephew, initially sceptical about the project, was bowled over by the finished house. The Belgian novelist Xavier Hanotte showed her Owen's grave in the village cemetery and the canal where he fell.
Producer: Marya Burgess.
Last on
Clips

Broadcast