Main content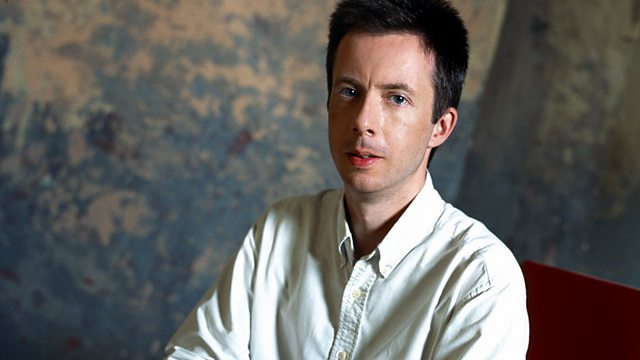 08/11/2011
John Shea's selection includes Trio Ex Aequo performing Haydn and Beethoven alongside Dvorak's Dumky Trio.
John Shea presents Trio Ex Aequo performing Haydn & Beethoven alongside Dvorak's "Dumky" Trio.
12:31 AM
Haydn, Joseph [1732-1809]
Trio in C major H.15.27 for keyboard and strings
Trio Ex Aequo
12:51 AM
Beethoven, Ludwig van [1770 -1827]
Trio in C minor Op.1'3 for piano and strings
Trio Ex Aequo
1:20 AM
Dvorák, Antonín [1841-1904]
Trio no. 4 Op.90 (Dumky) for piano and strings
Trio Ex Aequo
1:51 AM
Schubert, Franz [1797-1828]
Scherzando from Trio in E flat major D. 929 (Op. 100) for piano and strings
Trio Ex Aequo
1:59 AM
Rameau, Jean-Philippe (1683-1764)
Le Temple de la Gloire - orchestral suites from the opera-ballet (1745)
Tafelmusik Baroque Orchestra, Jeanne Lamon (conductor)
2:31 AM
Debussy, Claude (1862-1918) arranged for orchestra by Koechlin, Charles (1867-1950)
Khamma - Légende Dansée
Royal Concertgebouw Orchestra, Riccardo Chailly (conductor)
2:52 AM
Chopin, Fryderyk [1810-1849]
Concerto for piano and orchestra no. 1 (Op.11) in E minor
Martha Argerich (piano), Sinfonia Varsovia, Jacek Kaspszyk (conductor)
3:32 AM
Milhaud, Darius (1892-1974), arr. Timothy Kain
Scaramouche
Guitar Trek
3:43 AM
Williams, Grace (1906-1977)
Sea Sketches (1944)
Manitoba Chamber Orchestra, Roy Goodman (conductor)
4:01 AM
Abel, Carl Friedrich (1723-1787)
Sonata in A major, for cello and continuo
La Stagione Frankfurt: Rainer Zipperling (cello), Harald Hoeren (harpsichord)
4:10 AM
Schreker, Franz (1878-1934)
Valse Lente
Symphony Nova Scotia, Georg Tintner (conductor)
4:15 AM
Ibert, Jacques (1890-1962)
Trois Pièces Brèves
Galliard Ensemble BBC New Generation Artists
4:23 AM
Rameau, Jean-Philippe (1683-1764)
3 pieces from 'Les Indes Galantes'
Stephen Preston (flute), Robert Woolley (harpsichord)
4:31 AM
Raitio, Väinö (1891-1945)
The Maidens on the Headlands - symphonic poem
Finnish Radio Symphony Orchestra, Jukka-Pekka Saraste (conductor)
4:39 AM
Bach, Carl Philipp Emanuel (1714-1788)
Sonata in D minor (Wq.62/15)
Gonny van der Maten (organ)
4:46 AM
Mendelssohn, Fanny Hensel (1805-1847)
Songs Without Words (Op.6) (1846)
Sylviane Deferne (piano)
4:57 AM
Elsner, Józef Antoni Franciszek [Joseph Anton Franciskus, Józef Ksawery, Joseph Xaver] (1769-1854)
Overture to the opera "Sultan Vampum" (1800)
Polish Radio Symphony Orchestra, Andrzej Straszynski (conductor)
5:01 AM
Elgar, Edward (1857-1934)
Serenade for string orchestra (Op.20) in E minor
BBC Concert Orchestra, Stephen Cleobury (conductor)
5:14 AM
Gwilym Simcock [(1981- )]
Improvisation on a 'plain-chant like' melody
Gwilym Simcock (piano)
5:21 AM
Vivaldi, Antonio (1678-1741)
Concerto in C minor for treble recorder (RV.441)
Michael Schneider (recorder), Camerata Köln
5:32 AM
Schumann, Robert [1810-1856]
Marchenbilder for viola and piano (Op.113)
Maxim Rysanov (viola) , Evgeny Samoyloff (piano)
5:49 AM
Bach, Johann Christoph (1642-1703)
Meine Freundin, du bist schön
Maria Zedelius (soprano), David Cordier (alto), Paul Elliott (tenor), Michael Schopper (bass), Rheinische Kantorei, Musica Antiqua Koln, Reinhard Goebel (director)
6:12 AM
Bizet, Georges (1838-1875)
Carmen Suite No.2
Slovenian Radio and Television Symphony Orchestra, Marko Munih (conductor).