Main content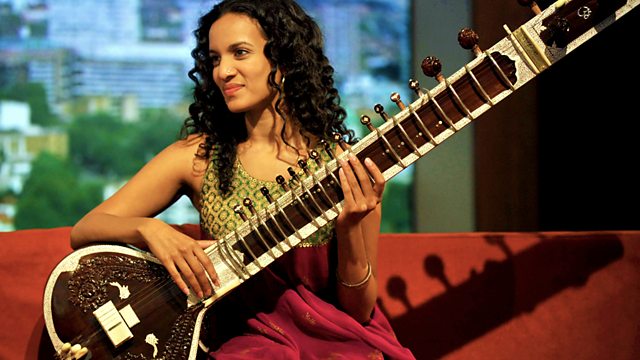 Anoushka Shankar
Michael Berkeley's guest is sitar player and composer Anoushka Shankar. She selects music from Debussy, Satie, Faure, Ali Farka Toure and Nick Cave, as well as a flamenco song.
Michael Berkeley's guest today is the sitar player and composer Anoushka Shankar, one of the stars of world music today. She studied exclusively with her father, the great Indian sitar player Ravi Shankar, made her debut at age 13 in New Delhi, and released her first solo recording in 1998. In 2001 her third album, Live at Carnegie Hall, was nominated for a Grammy award. In 2002 she appeared at the Royal Albert Hall in a tribute concert to the late George Harrison, conducting a new piece by her father which featured Eric Clapton on solo guitar.
Until 2005 she was primarily a solo performer of Indian classical music, but in that year she branched out with her fourth album, Rise, a fusion of East and West employing both acoustic and electric instrumentation, on which she appeared as composer, arranger and producer. It won her another Grammy nomination. She toured extensively in the wake of the new album, forming the Anoushka Shankar Project to present her new non-classical ensemble works to a live audience, and in 2007 released another album, Breathing Under Water, in collaboration with the Indian-American producer Karsh Kale It features guest appearances by her father and her half-sister, Norah Jones. She now applies her expertise as a fine Indian classical musician to working with top-quality musicians from a range of traditions to create innovative music that appeals to a wide audience. She has just released her next album, Traveller.
Her eclectic choices for Private Passions include piano pieces by Debussy and Erik Satie; the Andantino from Faure's Piano Trio, Op.120; a piece by Ali Farka Toure and Toumani Diabate, a collaboration which she particularly admires; a raga played by her father; a flamenco piece, and Nick Cave's song 'Into My Arms'.
Last on
Music Played
Anoushka Shankar

Si no peurdo Vela (excerpt)

Performers: Anoushka Shankar

Claude Debussy

Dr Gradus ad Parnassum' from 'Children's Corner

Performers: Philippe Entremont (piano)

Ali Farka Touré &Toumani Diabaté

Monsieur Le Maire de Niafunké

Performers: Ali Farka Touré (guitar), Toumani Diabaté (kora), Olalekan Babalola (percussion)

Gabriel Fauré

2nd mvt 'Andantino' from Trio for Piano, Cello & Violin Op 120

Performers: Gil Shaham (violin), Akira Eguchi (piano), Brinton Smith (cello)

Ravi Shankar

Karnãtaki (Raga Kirvãni)

Performers: Ravi Shankar (sitar), Kanai Dutta (tabla), Nodu Mullick (tampura)

Erik Satie

Gymnopédie no 1

Performers: Angela Brownridge (piano)

Gino D'Auri

Recuerdo de la Alhambra

Performers: Gino D'Auri

Nick Cave

Into My Arms

Performers: Nick Cave (vocals, piano), Martyn P Casey (bass)
Broadcast