Main content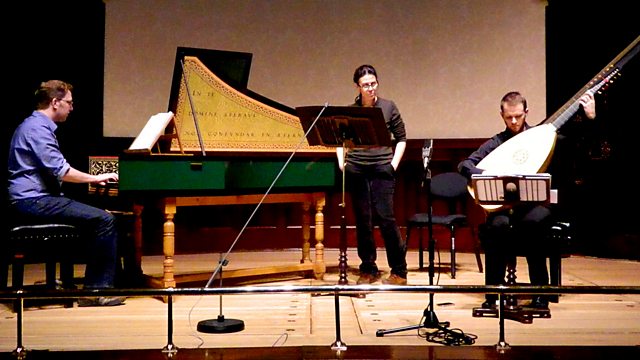 Sara Mingardo, Benjamin Bayl, Richard Sweeney
From Wigmore Hall, London, Sara Mingardo (contralto) and Benjamin Bayl (harpsichord) perform arias by Falconierei, Lotti, Caldara, Vivaldi, Marcello, Pergoelesi and Cesti.
Live from Wigmore Hall in London. The Italian contralto, Sara Mingardo, the harpsichordist Benjamin Bayl and the theorbo player Richard Sweeney perform a selection of baroque arias.
Presented by Sean Rafferty
Sara Mingardo (contralto)
Benjamin Bayl (harpsichord)
Richard Sweeney (theorbo)
Falconieri: Bella porta di rubini; O bellissimi capelli
Lotti: Pur dicesti, o bocca bella
Caldara: Sebben, crudele
Vivaldi: Un certo non so che
Marcello: Quella fiamma che m'accende
Pergolesi: Se tu m'ami
Piccinini: Toccata IV
Cesti: Intorno all'idol mio (Orontea)
Handel: Ah, mio cor, schernito sei (Alcina)
Piccinni: Se il ciel mi divide (Alessandro nelle Indie)
Paisiello: Nel cor più non mi sento (La bella Molinara).
Music Played
Sara Mingardo and Benjamin Bayl