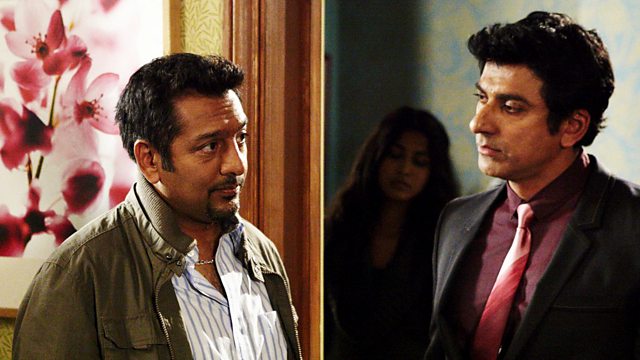 27/10/2011
Tamwar plans a family lunch, inviting Amira and Yasmin. Returning from Pakistan, Zainab's nervous about her family's reaction. She's shocked to see Amira on the square. Yusef claims she's seeing things and urges Zainab to face her family so they can start a new life in Pakistan. He intercepts Amira and demands she stay away, insisting she's not wanted. Tamwar, Afia and Syed are surprised at Yusef and Zainab return; Zainab's delighted to learn she's a grandmother. Later, Christian tells Syed that he won't make him choose between him and Yasmin. Yusef's irritated when Amira arrives with Yasmin, Masood gloats that he and Zainab now share an unbreakable bond. Zainab tells Yusef she can't move to Karachi now she's a grandmother. In the Vic, when Yusef questions Yasmin's parentage Christian insists Syed's her father. Yusef points out now there are DNA tests to prove these things and leaves Christian, wondering.
Janine's upset when no-one attends her launch party and unimpressed when Billy invites the market traders. She's pleasantly surprised when promotion girls arrive dressed in Butcher's Joints t-shirts and bring in business. Janine realises Michael is behind it, she's put out when he hands her an invoice.
Having spent the night with Pat, Norman's thrilled they're finally together. Patrick's concerned when Norman boasts he organises personal loans. He confronts Pat over her recent financial tip, warning her if she defaults on her payments they'll sell her house. Pat's furious. Norman pleads for forgiveness but Pat throws him out.
Rose's alarmed to discover Yusef's back, having brought home all the patients' files with her. Dot replaces them and discovers a patient's test results weren't processed correctly - the man's funeral is tomorrow.
On seeing the improvements Poppy and Jodie have made to their flat, Ian increases their rent.
Last on
Credits
| Role | Contributor |
| --- | --- |
| Dr Yusef Khan | Ace Bhatti |
| Christian Clarke | John Partridge |
| Syed Masood | Marc Elliott |
| Amira Masood | Preeya Kalidas |
| Zainab Masood | Nina Wadia |
| Masood Ahmed | Nitin Ganatra |
| Tamwar Masood | Himesh Patel |
| Afia Masood | Meryl Fernandes |
| Roxy Mitchell | Rita Simons |
| Janine Malloy | Charlie Brooks |
| Michael Moon | Steve John Shepherd |
| Billy Mitchell | Perry Fenwick |
| Lola Pearce | Danielle Harold |
| Jodie Gold | Kylie Babbington |
| Poppy Meadow | Rachel Bright |
| Pat Evans | Pam St Clement |
| Patrick Trueman | Rudolph Walker |
| Norman Simmonds | George Layton |
| Carol Jackson | Lindsey Coulson |
| Dot Branning | June Brown |
| Rose Cotton | Polly Perkins |
| Heather Trott | Cheryl Fergison |
| Executive Producer | Bryan Kirkwood |
| Director | Lee Salisbury |
| Writer | Lucy Gannon |
| Ian Beale | Adam Woodyatt |