Main content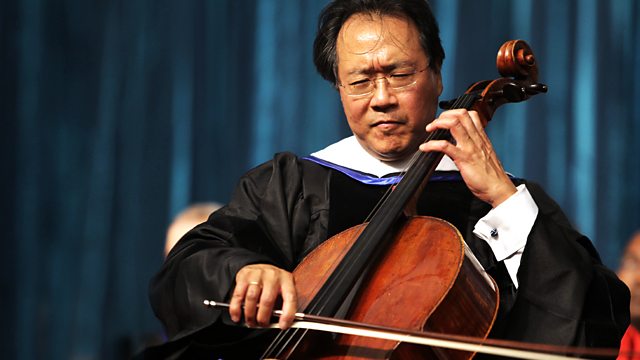 Yo-Yo Ma, Emma Donoghue, Soviet Architecture
With Kirsty Lang, including an interview with cellist Yo-Yo Ma, and a round up of some of the week's biggest music releases: from Coldplay to Tom Waits.
With Kirsty Lang.
Emma Donoghue is the bestselling author of Room, the Booker-nominated novel inspired by the real life Josef Fritzl case. Her latest book is The Sealed Letter, a historical romp that deals with a scandalous 19th Century divorce case. She talks to Kirsty about why she always avoids taking sides among her characters.
Music critic Caspar Llewellyn Smith reviews a selection of new albums - including Coldplay's recent Mylo Xyloto; Tom Waits' long-awaited Bad As Me; and Parisienne singer Camille's bilingual Ilo Veyou.
Johnny Hallyday has announced he will play his first British concert at the Royal Albert Hall next year. French journalist Agnes Poirier explains the enduring appeal of the Gallic rocker.
Martin Sixsmith reviews a new exhibition of Soviet art and architecture at the Royal Academy in London, which explores how the Russian avant-garde aesthetic reflected the energy and optimism of the new Soviet Socialist State
Plus: America's most famous cellist, Yo-Yo Ma, is renowned for performing works which range far beyond the standard classical repertoire. His latest CD, The Goat Rodeo Sessions, is a collaboration with three string virtuosos: a bluegrass fiddler, a mandolin wizard, and a bassist. Ma talks about his attitude to improvisation - and explains what a goat rodeo is.
Producer Ellie Bury.
Last on
Chapters
Emma Donoghue

Interview with author Emma Donoghue

Duration: 07:26

Music Review

Caspar Llewellyn Smith reviews a selection of new albums

Duration: 06:16

Johnny Hallyday

Agnes Poirier explains Johnny Hallyday's enduring appeal

Duration: 03:54

Building the Revolution Exhibition

Kirsty and Martin Sixsmith reivew Building the Revolution Exhibition

Duration: 04:10

Broadcast