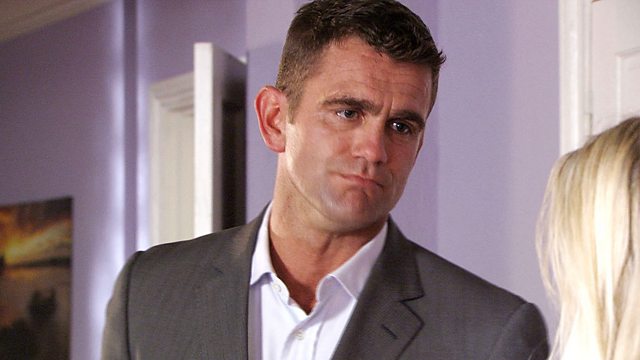 18/10/2011
Ian plays golf with Gordon Baggs, hoping to get back into the WCCT. Mandy asks for Jack's help when she sets off the smoke alarm. Jack's unhappy because Ronnie refused to see him when he visited. Mandy keeps Jack talking until she sees Ian's car pull up. Ian's sure Mandy's trying to wind him up. Mandy's outraged when Ian instructs her to get upstairs and get undressed. Taking a golf club, she smashes up Ian's car. Janine films it, having called everyone out of the Vic to watch. When Ian admits the car's rented, Mandy throws paint at it.
Lauren discovers that Fatboy fancies Whitney. Tyler and Whitney are both nervous about having sex, but when Tyler produces a bottle of vodka and insists Whitney needs loosening up, it's too much for her. She kisses him fiercely and then backs off. She leaves and insists she doesn't want to be anywhere near Tyler after he tries to reassure her he respects her, he's not a punter.
Claiming he has a solicitor's appointment, Syed meets Amira and Yasmin in the park. Syed and Amira get on well. Amira asks a passer-by to take a photo. They agree to meet again, but Amira's adamant she won't let Christian see Yasmin. Later, despite telling Amira he's going to stop lying to Christian, Syed tells him the solicitor's appointment went well.
Kat's on edge after Mark phones. Alfie reveals they're going on holiday to Madeira. His high spirits cheer Kat up, until Janine makes a snide comment about her being a devoted wife. Alfie's confused when Kat tells him she's sorry, she quickly claims she's pre-menstrual.
At playgroup, Whitney's asked to persuade Roxy to join in. Later, Christian's amused when Roxy relates how she managed to annoy playgroup leader Sophie.
Last on
Credits
| Role | Contributor |
| --- | --- |
| Ian Beale | Adam Woodyatt |
| Mandy Salter | Nicola Stapleton |
| Janine Malloy | Charlie Brooks |
| Jack Branning | Scott Maslen |
| Whitney Dean | Shona McGarty |
| Tyler Moon | Tony Discipline |
| Anthony Moon | Matt Lapinskas |
| Arthur 'Fat Boy' Chubb | Ricky Norwood |
| Lauren Branning | Jacqueline Jossa |
| Amira Masood | Preeya Kalidas |
| Syed Masood | Marc Elliott |
| Christian Clarke | John Partridge |
| Roxy Mitchell | Rita Simons |
| Alfie Moon | Shane Richie |
| Kat Moon | Jessie Wallace |
| Pat Evans | Pam St Clement |
| Executive Producer | Bryan Kirkwood |
| Director | Karl Neilson |
| Writer | Christopher Reason |
| Norman Simmonds | George Layton |
| Sophie | Jane Cameron |