Main content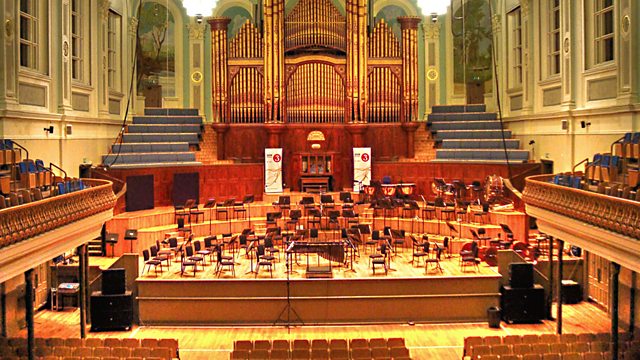 Flights of Fancy
Music for voices and pianola performed by the BBC Singers and Rex Lawson, including the world premiere of Gabriel Jackson's Airplane Cantata for voices and pianola together.
BBC Singers
James Morgan, conductor
Rex Lawson, pianola
Flights of Fancy
Live from St Paul's Church, Knightsbridge, Catherine Bott presents a concert which brings together human and mechanised forms of musical expression as the voices of the BBC Singers join forces with that most ingenious and sophisticated of automated instruments, the pianola.
At the heart of the programme, Gabriel Jackson's new work celebrates the history of manned flight - from mythological Icarus to the 20th century's forays into space. It's a piece inspired, says the composer, by the fact "that the (brief) heyday of the pianola coincided with the pioneering years of aviation" and takes full advantage of its "almost limitless ability to play a lot of notes very quickly and its capacity for articulating complex multi-layered textures (notated on up to six staves)". In the rest of the concert, master-pianolist Rex Lawson performs solos from some of the vast repertoire of original works and transcriptions for the instrument, and the BBC Singers continue the avation theme in flight-related works by Eric Whitacre and Matthew Orlovich.
Eric Whitacre: Leonardo dreams of his flying machine
Igor Stravinsky Etude for pianola
Percy Grainger: Shepherd's Hey
Matthew Orlovich: Aviation
Conlon Nancarrow: Study no 6
Gabriel Jackson: Airplane Cantata (BBC commission; world premiere)
- interval (20') -
During the interval, Rex Lawson chats to Catherine Bott about the history of the pianola, its (often misunderstood) nature as a musical instrument, and some of the composers inspired to write for it - right up to our own day.
Maurice Rosenthal: Papillons
Sergei Rachmaninov: Prelude in D major (op 23/4); Prelude in E flat major (op 23/6)
Johannes Brahms: Liebeslieder (op 52).
Music Played
BBC Singers

Music Interval (with guest Rex Lawson)

BBC Singers