Main content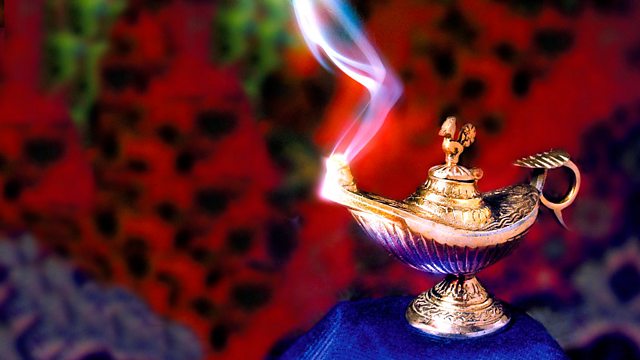 Three Wishes
Stories of the genie date as far back as the Koran and the Arabian Nights and have delighted and terrified children ever since. Janet Ellis explores its continuing appeal.
The genie - or jinn, to give it its original name - has been a key player in some of the world's oldest stories. Compared to similar beings from classical western mythologies, the jinn is much harder to predict and pin down thanks to its unpredictable spirit. Born of fire, it can be a tempestuous, vindictive, benevolent or sometimes just downright grumpy character, after thousands of years trapped in a lamp. The fact of its frequent servitude has led some to interpret the popularity of the stories during the abolition of slavery campaign as a commentary on the slave trade. Others have focused on the quandaries posed by the giving and receiving of wishes, while others, perhaps most famously Robin Williams, have simply revelled in the larger-than-life exuberance the shape-shifting genie offers. In 'Three Wishes', Janet Ellis talks with Marina Warner, an expert on the Arabian Nights; Ajmal Zaheer Ahmad, who's film 'Jinn' is released next year; Philip Kerr, best known for his crime novels but also responsible for series of seven children's books focusing on twin heroes who happen to be genies; polymath Hugh Montgomery, who's exploiting the metaphorical potential of the idea of the genie in the bottle for a major campaign against global warming; and the director and star in a production of perhaps the most famous genie story of them all - Aladdin.
Producer Geoff Bird.