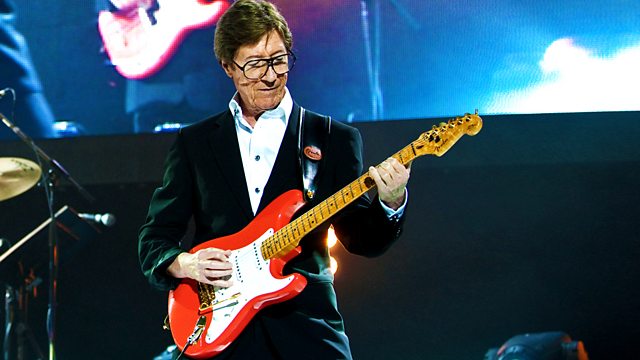 The Thing about Hank
Guitarists including Jimmy Page and Mark Knopfler, plus Cliff Richard, discuss the unique influence of Hank Marvin. From October 2011.
He influenced a generation of guitarist players with his wide grin, black specs and red Stratocaster. Hank Marvin changed the way we see the guitar and in 'The Thing About Hank' we hear how. The programme explores Marvin's unique sound which Led Zeppelin's Jimmy Page reveals, he tried to emulate as a teenager. Page was not the only aspiring guitar hero adapting Hank's style Mark Knopfler (Dire Straits front man) goes back to his schooldays explaining how he and his pals learnt the Shadows tunes after class.
No programme exploring the music of Hank and The Shadows would be complete without comments from Britain's answer to Elvis, Cliff Richard. As we hear it was Cliff who purchased Hank's first Fender Stratocaster imported from America. Roxy Music's Phil Manzanera believes that "Strat" guitar was crucial to the Hank Marvin sound that became a key feature of The Shadows success. The guitar with its red polished body and tremolo arm became a signature instrument for the young Marvin. Later two models would bear Hank's name "The Burns Marvin" and the "Stratocaster Hank Marvin" model. Hank Marvin talks about this accolade and explores some of the Shadows best known tunes, 'Apache', 'Wonderful Land" and 'Footapper'. Hank also talks us through The Shadows 'Walk" which British teenagers copied when ever a Shadows tune hit the airways.
Presented by John Sugar
Producer: John Sugar
A Sugar Production for BBC Radio 4.