Main content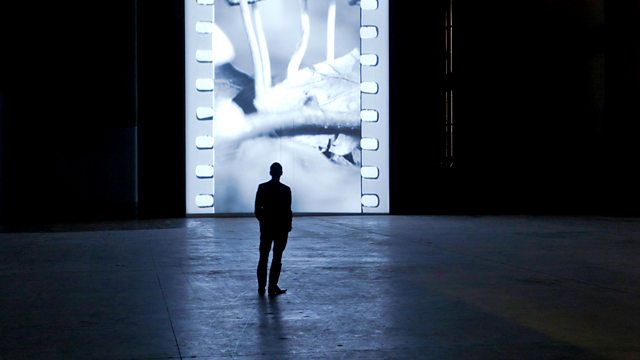 Tacita Dean in Turbine Hall; robot film Real Steel
With Mark Lawson. Turner Prize nominee Tacita Dean on her Tate Modern Turbine Hall commission, plus a review of Real Steel, a robot action sci-fi film starring Hugh Jackman.
With Mark Lawson.
Turner Prize nominee Tacita Dean unveils her newly commissioned work in Tate Modern's Turbine Hall. Her silent film is displayed on a giant screen which stretches from the floor to the ceiling of the gigantic space.
Fim-maker Morgan Spurlock, Oscar-nonimated for his documentary Super Size Me, has turned his attention to product placement, marketing and advertising in movies and TV shows for his new film The Greatest Movie Ever Sold. Wearing a suit embroidered with the names of the sponsors he got on board for the film, Morgan Spurlock discusses the challenge of getting corporations to commit substantial sums to finance his project.
Real Steel is a science-fiction action film starring Hugh Jackman, set in the year 2020 when humans have been replaced by robots in the boxing ring. Jackman plays a debt-ridden former boxer, who attempts to profit from illegal robot fights. Mark Eccleston reviews.
And as Channel 4 announce that they are putting their popular property series Relocation, Relocation 'on ice' due to the 'current climate', and American children's TV show Sesame Street introduces a character living on the breadline - Mark talks to TV critic Stephen Armstrong about how broadcasters are responding to the recession era.
Producer Georgia Mann.
Chapters
Real Steel

Mark Eccleston reviews film Real Steel

Duration: 04:59

Tacita Dean

Interview with Turner Prize nominee Tacita Dean

Duration: 07:59

Morgan Spurlock

Interview with film-maker, Morgan Spurlock

Duration: 09:35

Recession Television

Mark talks to TV critic Stephen Armstrong about how broadcasters are responding to the recession era

Duration: 04:59

Featured in...

Magazine programme on the worlds of arts, literature, film, media and music.

A selection of programmes and clips celebrating films and film making