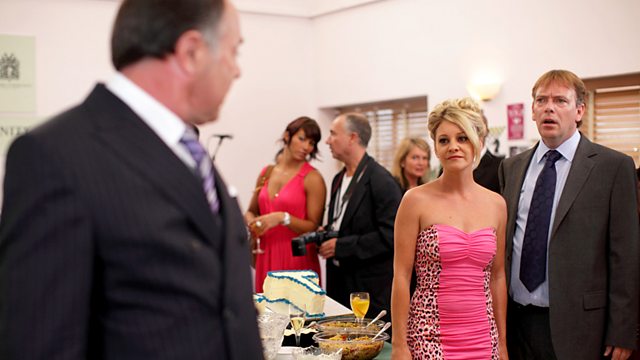 04/10/2011
Vanessa reveals Michael paid her to leave Eddie, and gives Eddie CCTV footage which proves it. Vanessa reveals the full extent of Michael's plotting - breaking Eddie and Carol up, holding the fight on the anniversary of Maggie's death and wanting Tyler hurt. Jack later confirms to Eddie that Michael arranged Tyler's fight himself. Michael continues to insist Eddie can trust him. Eddie finds Vanessa packing, she gives him the money. Eddie insists they're going away together, on holiday. Eddie thinks Michael finally cares and realises what family is – he tells Vanessa it's going to finish Michael when they take it all away.
Phil's slept in the Vic. Kat and Alfie attempt to talk Phil round, but he's unmoved. Ben looks at Duncan's profile page. Ben and Jay watch Abi and Lola's self defence lesson. Lola practices on Ben and quickly pins him to the ground. When she calls him a fairy he lashes out and runs away. Phil opens the pub but no customers come in. Janine offers to buy the Vic, Phil tears up her cheque. When Patrick collars Ben, Phil charges in, baseball bat in hand, and threatens Patrick. Patrick tells Phil Ben's got something to say, but Ben pretends not to understand him. Later, when Jay realises Ben's upset, Ben runs off.
At the WCCT convention, Kat and Alfie network furiously. Ian attempts to charm Gordon Bags into giving him a place on the committee. Unfortunately, Gordon recognises Mandy. He refuses to believe Ian's not paying her and tells everyone Mandy's a stripper. In retaliation, Kat insults Gordon's wife. Ian throws a cake in Gordon's face and a food fight ensues.
Fatboy persuades Whitney to ask for work experience at the playgroup. Tyler apologises to Whitney and gives her his moon necklace.
Last on
Credits
| Role | Contributor |
| --- | --- |
| Eddie Moon | David Essex |
| Vanessa Gold | Zoe Lucker |
| Michael Moon | Steve John Shepherd |
| Phil Mitchell | Steve McFadden |
| Ben Mitchell | Joshua Pascoe |
| Patrick Trueman | Rudolph Walker |
| Ian Beale | Adam Woodyatt |
| Mandy Salter | Nicola Stapleton |
| Alfie Moon | Shane Richie |
| Kat Moon | Jessie Wallace |
| Kim Fox | Tameka Empson |
| Denise Fox | Diane Parish |
| Anthony Moon | Matt Lapinskas |
| Tyler Moon | Tony Discipline |
| Whitney Dean | Shona McGarty |
| Arthur 'Fat Boy' Chubb | Ricky Norwood |
| Jay Mitchell | Jamie Borthwick |
| Abi Branning | Lorna Fitzgerald |
| Lola Pearce | Danielle Harold |
| Christian Clarke | John Partridge |
| Janine Malloy | Charlie Brooks |
| Executive Producer | Bryan Kirkwood |
| Director | Michael Owen Morris |
| Writer | Jesse O'Mahoney |
| Jack Branning | Scott Maslen |
| Norman Simmonds | George Layton |
| Kris Jennings | Adam Woodroffe |
| Sophie | Jane Cameron |