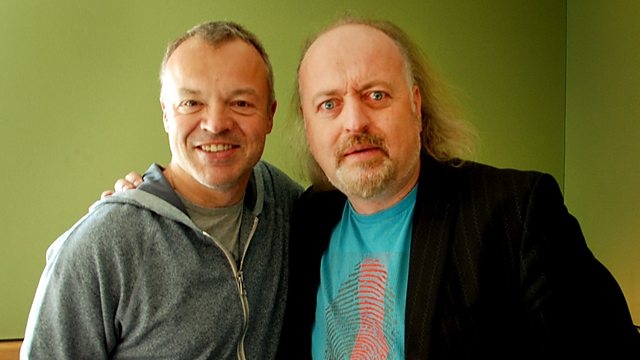 Darren Hayes & Bill Bailey - from a Savage to a space garden...
Back in the comforts of Studio 6C after two weeks in New York, Graham welcomed former Savage Garden singer and solo star Darren Hayes as his first guest this week. As well as talking about his brand new album, self-confessed Star Wars geek Darren also relived the embarassment of his failed audition for The Phantom Menace - a lucky escape by all accounts then?
After 12 Bill Bailey revealed a titbit about his appearance in the 'Doctor Who' Christmas special, chatted about his new tour and recounted his grilling at the hands of 'Your Cat' magazine - the interviewer was no pussycat apparently...
As a special wedding present to Paul McCartney (the kind of gift you give to someone when you've not been invited to the wedding), Graham played 'We All Stand Together' as this week's 'I Can't Believe It's Not Better'. Thanks to Peter for suggesting it and quite possibly ruining Sir Macca's newly wedded bliss...
'Grill Graham' this week saw McErlane, Norton and the nation trying to solve the problems of Sally, who discovered her friend "Sue" is having an affair, and of Danni, who wants to be more than just friends with a long-time chum.
And 'Tune With A Tale' came from Vicki Jenner in Chatham brought all our moods down (and special apologies to all in Wales) by requesting Beth Nielsen Chapman's 'Sand & Water', a tragic tale of loss and hardship.
Still, Vicki gets her own set of Graham Norton coasters, so it's not all bad...
Last on