Main content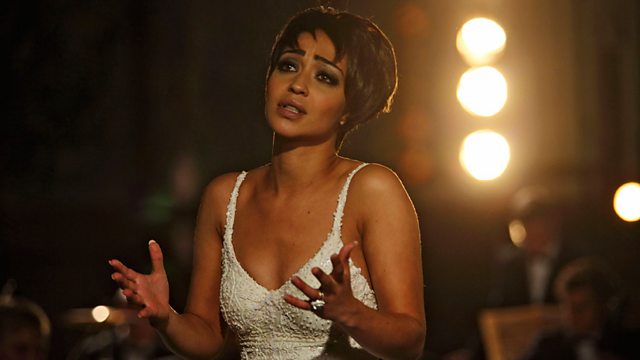 Shirley
A revealing drama that looks at the life of singer Dame Shirley Bassey. The film charts Bassey's early career, from her humble roots to the start of her rise to stardom.
Drama charting the rise to fame of singer Dame Shirley Bassey. Born in Cardiff's Tiger Bay to a white mother and Nigerian father, Shirley is the youngest of eight children in a family living well below the poverty line. By the time she is a toddler, the family have moved to the all white area of Splott. Shirley takes no prisoners when faced with racist taunts and the stares of local kids.
By the time she is 12, Shirley has discovered she has an extraordinary voice and can earn money singing in pubs around the docks. By the age of 15, she is already singing and dancing in 'coloured review shows' popular in the 1950s. But it is a chance meeting with struggling agent Mike Sullivan that changes Shirley's life forever. He promises to make her a star, but has no idea of the personal sacrifice that will mean for the teenaged Shirley.
Sullivan controls every aspect of Shirley's career, guiding her to success. When she meets and falls in love with young film producer Kenneth Hume, the relationship between Shirley and her mentor is tested to the limit. Oblivious to rumours about Hume's sexuality, the two marry and the power struggle between the two men for control over Shirley's life threatens to destroy her.
Credits
| Role | Contributor |
| --- | --- |
| Director | Colin Teague |
| Shirley Bassey | Ruth Negga |
| Mike Sullivan | Charlie Creed-Miles |
| Eliza Bassey | Lesley Sharp |
| Kenneth Hume | Henry Lloyd-Hughes |
| Iris Bassey | Larissa Wilson |
| Henry Bassey | Babou Ceesay |
| Henry Bassey Jnr | Isaiah Cai Forrest |
| Neighbour | Victoria Pugh |
| Policeman | Jack Llewellyn |
| Bobo | Danny Sapani |
| Shirley (Aged 9) | Amira Arish |
| Agent | Colin Mace |
| Juhni Sullivan | Jeany Spark |
| Jack Hylton | Matthew Marsh |
| Mrs Morrison | Di Botcher |
| Chauffeur John | Geraint Todd |
| Sharon Bassey | Divine Faith Utonga |
| Compere | Jonathan Rhodes |
| Writer | Shelagh Stephenson |
| Producer | Katherine Lannon |
| Executive Producer | Eleanor Moran |
| Executive Producer | Maxine Watson |
| Executive Producer | Charles Thompson |