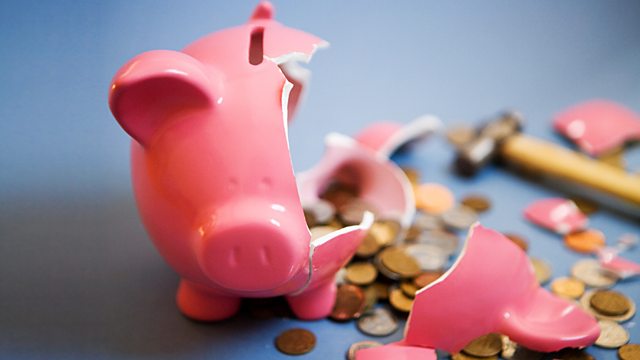 Tontine
When a community savings system goes wrong, disaster looms for one struggling family. A hard hitting new play from Karen Brown, starring Alison Steadman.
Current Treasury figures suggest that 1.75 million UK adults have no access to a transactional bank account. So how are they keeping their money safe?
Tontines were started on mainland Europe in the 17th century, but fell out of favour. Such schemes still exist in the UK, where people are struggling to make ends meet, without access to the banking system. Tontines run successfully in small communities, where trust and responsibility are still respected. The Tontine collector is given regular payments every week. The savers can call on the money in an emergency or often at Christmas, paying back a small fee on any loan.
Thomas and Anne Lally have taken over the local tontine scheme from Thomas' mum, Marie. A run of bad luck culminates in Thomas being on crutches and so not able to work. Anne reveals that she has been dipping into the tontine savings - and now owes thousands to their friends and neighbours. The family have to make the money back. The grim reality is that they are too much in debt to ever reach their target..so what options do they have?
The writer
Karen Brown's recent work includes a Radio 4 Woman's Hour, Sherbet Dolls, and two 45 dramas for BBC1. The first, The Rain Has Stopped was nominated for a RTS award.
Marie..............Alison Steadman
Anne..............Jess Schofield
Thomas.............Shaun Mason
Cheryl..............Angela Simms
Gordon............Roy Brandon
Director/producer Polly Thomas
Sound designer Eloise Whitmore
Executive producer Kate McAll
A BBC Radio Drama at Cymru/Wales production for BBC Radio 4.
Last on