Main content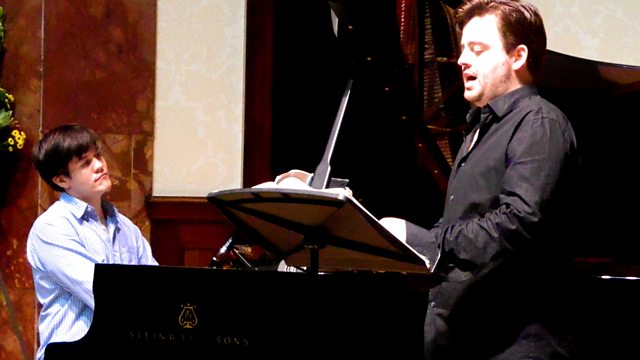 Ben Johnson, James Baillieu
From Wigmore Hall, London, BBC Radio 3 New Generation Artist and tenor Ben Johnson is accompanied by pianist James Baillieu in a performance of Schubert's Schwanengesang.
Live from London's Wigmore Hall, Radio 3 New Generation Artist Ben Johnson performs Schubert's Schwanengesang (Swansong) with pianist James Baillieu
The final collection of Schubert songs was compiled after his death, hence it's title. It's not known whether Schubert intended the songs to be sung consecutively but it's usually thought that the song that Schubert's publisher included as the final one in the group, Taubenpost (Pigeon Post) is the very last song that Schubert composed. What is in no doubt is that the songs make a considerable impact in performance. Ben Johnson, embarking on what is sure to be an exciting career, is only a year or two younger than Schubert was when he wrote these songs - a poignant reminder of just how much the Viennese composer packed into his tragically short life.
The concert is presented by Suzy Klein
Schubert: Schwanengesang D957
Ben Johnson (tenor)
James Baillieu (piano).