Main content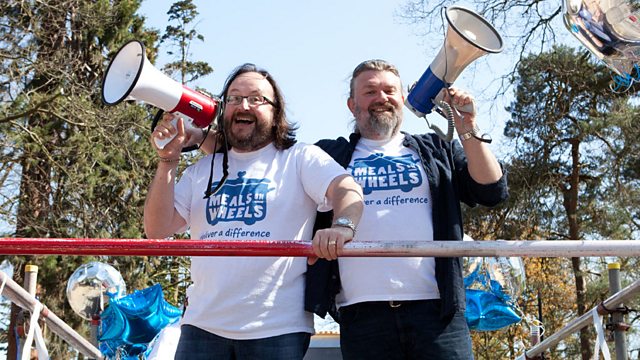 Dave Myers and Si King have breathed new life into Elmbridge's ailing Meals on Wheels service, but the kitchen is busy and there is a shortage of volunteers to deliver the meals.
The Hairy Bikers made their name cooking real food for real people. Now they are riding to the rescue of one of our great national culinary treasures - Meals on Wheels. At its height this iconic institution delivered more than 34 million meals to the elderly and infirm, but over the last eight years the number of Meals on Wheels delivered nationwide has plummeted by over a third. For Dave Myers and Si King saving Meals on Wheels is personal: from the age of eight Dave cooked for his poorly mum and Si rallied round to help feed his mother when she fell ill. It taught them the importance of good food in caring for people in need. Spurred on by these early experiences the Bikers' mission takes them on a journey across the country, all the way to royalty.
In this episode, Dave and Si get a sharp slap in the face. Armed with delicious fresh recipes we'd all love to eat, and lashings of their trademark warmth and humour, the Bikers have been making great progress breathing new life into Elmbridge Council's ailing MOW service. But the Meals On Wheels kitchen is struggling to cope with the extra workload created by their new menus and there's a dire shortage of volunteers prepared to deliver the meals.
In no uncertain terms the council's Meals On Wheels boss lays it on the line for the Bikers: unless they can recruit a whole new army of volunteers to help cook and deliver the meals, all their hard work so far will be for nothing. But without some ingenious ideas and a massive face-lift to transform the service's dowdy moth eaten image the Bikers realise that recruiting a new generation of volunteers to help save MOW will be a near impossible task.
Clips

Credits
| Role | Contributor |
| --- | --- |
| Presenter | Si King |
| Presenter | Si King |
| Presenter | Dave Myers |
| Presenter | Dave Myers |
| Producer | Paul Ratcliffe |
| Producer | Paul Ratcliffe |