Main content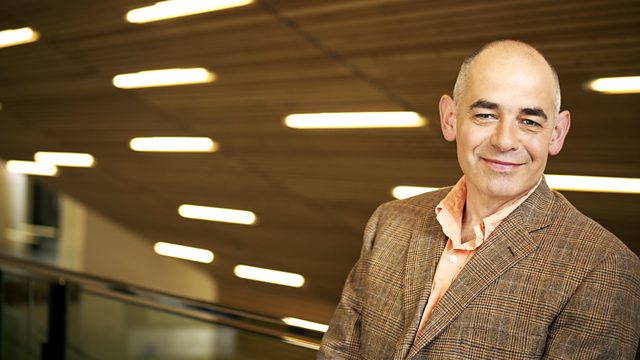 The Hands of the Composer
Iain Burnside considers the idea of how hands, fingers, thumbs and their use have directly affected Western keyboard composition. With works by Beethoven, Chopin, Liszt and Ligeti.
Iain Burnside muses on the idea of how hands, fingers, thumbs and their use have directly affected Western keyboard composition.
Pianist Stephen Hough, composer Huw Watkins and critic Bryce Morrison join in with their insights into how the physiology of great composers' hands had an impact on the music that they wrote and the various challenges performers face as a result.
Includes music by Beethoven, Chopin, Schumann, Liszt, Rachmaninov and Ligeti.
Interesting Facts from the programme:
Beethoven's hands were heavy and muscular.
Weber had astonishingly long thumbs.
The extreme length of Rachmaninov's fingers has led some experts to postulate that he had Marfan's syndrome, a genetic condition.
Chopin's hands were so elastic and flexible that when he extended them they prompted one of his pupils to remark that they resembled "the opening mouth of a serpent, about to swallow a rabbit whole."
Schumann permanently damaged his right hand in attempting to build the strength and independence of his fingers on a mechanical device. This ended his virtuoso piano career but fortuitously led to him spending more time composing.
Music: Music includes great pianist-composers, Beethoven, Chopin, Liszt and Rachmaninov, works by tragically frustrated pianists Schumann and Scriabin through Schoenberg and Stravinsky to finish with the ultimate challenge for contemporary pianists, the phenomenally difficult etudes of non-pianist György Ligeti.
Quotes from programme:
"Stravinsky made no secret about writing at the piano. There are so many chords, for example the first chord in the Symphony of Psalms that has a tenth in both hands. You can just imagine Stravinsky sitting down at the piano and his fingers falling into this position. You can feel that sometimes his hands are doing the composing, or at least having a hand in it."
Huw Watkins, composer
"The last three fingers of the right hand were his Divas"
Stephen Hough, pianist, on Chopin
"Thomas Adés is blessed with enormous hands. He can stretch an eleventh with many notes in between, which I can't quite do. I can stretch a tenth and I know that it's difficult to resist writing huge meaty chords and Tom certainly doesn't in his piano writing!"
Huw Watkins
"Scriabin was obsessed with his hands. When he wasn't stretching them, he was washing them."
Iain Burnside
"The patterns that Faure writes are quite unlike anyone else's and they suggest a certain sort of hand. If you look at, for example, the 3rd Valse Caprice, it looks in some ways like other people's music and then you try and you think: 'I'm going to have to start learning the piano all over again!' It all sounds easy, which is again irritating - no one has any idea that you're making an enormous effort."
Bryce Morrison
Producer: Mark Swartzentruber
Associate Producer: Naomi Edemariam
A Perfectly Normal Production for BBC Radio 3
First broadcast in 2011.
Last on
Broadcasts