Main content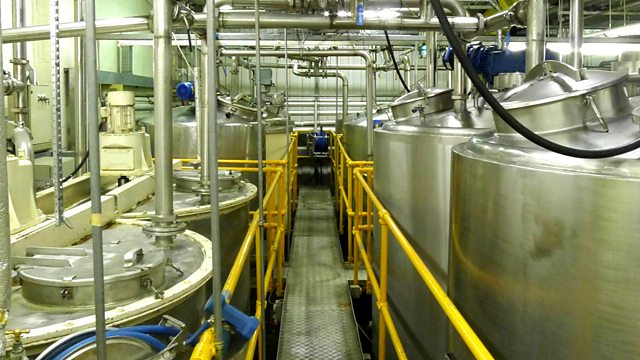 The Honey Business
In the wake of a significant EU ruling on GM pollen and honey, Sheila Dillon takes a look at the honey industry and meets the big packers, importers and traders.
Honey, prized since ancient times, is today shipped all over the planet. It is used as a pure foodstuff, a sweetening agent, in food manufacturing as well as in pharmaceuticals and more.
In this edition of The Food Programme, Sheila Dillon looks at the business of honey.
The story starts in rural Oxfordshire, where Rich Ward goes on a production site tour with Patrick Robinson - factory manager at Rowse, the biggest honey packer in the UK. The company brings honey in from all over the world for use in its own-label honeys and in honeys that it packs for its many customers. Rowse also blends honeys - matching the exact specifications of customers, including most of the major supermarkets.
Sheila meets Thomas Heck, a honey trader based in the City of London. His company procures large quantities of honeys from many countries that are shipped in large metal drums.
Hattie Ellis, author of 'Sweetness & Light: The Mysterious History of the Honeybee' joins Sheila to talk honey history and adulteration.
Journalist Andrew Schneider discusses his recent article about 'honey laundering' that sent shockwaves around
the USA, portraying a situation in which mislabelled honey and fake honeys are finding their way on to the shelves.
Tony Spacey, the founder of Littleover Apiaries in Derbyshire, explains why his company has the need for an on-site laboratory.
The highest court in the EU has just issued a ruling concerning GM pollen and honey, which will have far-reaching implications both for the honey trade and beyond. As global demand grows year on year, could the EU be facing a honey shortage?
Produced by Rich Ward.
Last on
Broadcasts

Featured in...
Bees and honey on Radio 4

The Food Programme takes a lip-smacking look back at some of the foods that make Britain.