Main content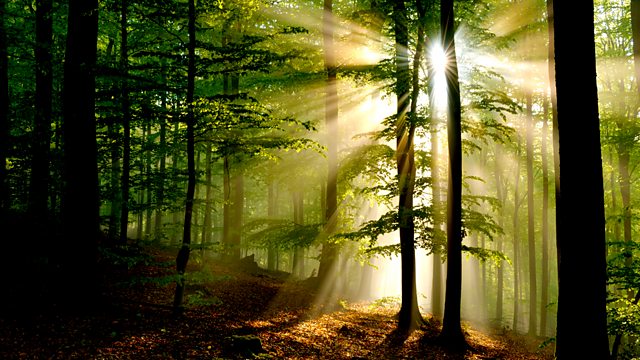 A Midsummer Night's Dream
Adaptation of Shakespeare's comedy centring on the adventures of four young lovers, recorded on location in 22 acres of Sussex woodland.
In midsummer week, Radio 3 enters one of the most potent sources of the human imagination. 'Into the Forest' explores the enchantment, escape and magical danger of the forest in summer, with slow radio moments featuring the sounds of the forest, allowing time out from today's often frenetic world. and another chance to hear this summer production of A Midsummer Night's Dream.
The play revolves around the adventures of four young lovers, a group of amateur actors and their interactions with the fairies who inhabit a moonlit forest. The story takes place in Midsummer and is a complex farce featuring Hermia and Lysander, Helena and Demetrius. Their romantic intrigues are confused and complicated still further by entering the forest where Oberon King of the fairies and his queen Titania, preside. Puck (or Robin Goodfellow) is a major character who is full of mischief and tricks. Other visitors to the enchanted forest include Bottom, the Weaver and his friends Snug, Snout, Quince and Flute, the amateur dramatists who want to rehearse their terrible but hilarious version of the play Pyramus and Thisbe.
Recorded on location in 22 acres of Sussex woodland, this production has an all-star cast.
Director: Celia de Wolff
Music by Stephanie Nunn
Titania ..... Lesley Sharp
Oberon ..... Toby Stephens
Peter Quince ..... Robert Pugh
Nick Bottom ..... Roger Allam
Puck ..... Freddie Fox
Theseus ..... Nicholas Farrell
Hippolyta ..... Emma Fielding
Lysander ..... Joseph Timms
Demetrius ..... Ferdinand Kingsley
Hermia ..... Emerald O'Hanrahan
Helena ..... Anna Madeley
Egeus / Starveling ..... David Collings
Philostrate / Snug ..... Nicholas Boulton
Fairy ..... Sara Markland
Francis Flute ..... Sam Alexander
Tom Snout ..... Sam Dale
Peaseblossom ..... Jessica Sian
Cobweb ..... Jay Carter
Moth ..... Tressa Brooks
Mustardseed ..... Stuart Walker.