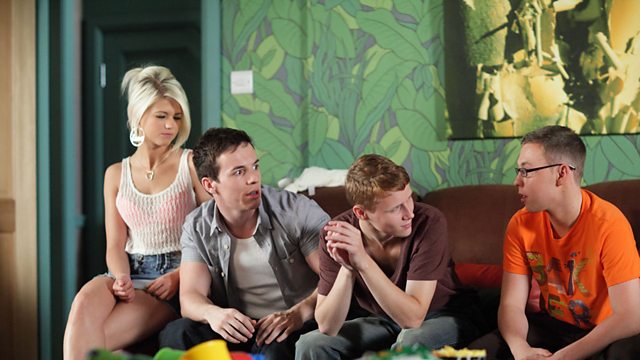 09/09/2011
Michael worries that Carol and Eddie will break up too soon and tells Vanessa to back off. Vanessa rejects Janine's gold digging advice. Eddie tells Vanessa he's fixed her watch and found a buyer. They talk about regrets and after Eddie pours Vanessa a drink, she kisses him. After talking to Michael, Carol finds Eddie and tells him she loves him. Emotional, Eddie hugs her. In a dark corner of the Emporium a semi-clothed Vanessa listens, gutted.
Zainab attends a drinks reception with Yusef. Someone assumes Zainab's married to Yusef, she doesn't correct them and soon finds herself describing their wedding. Zainab fears Yusef will be angry, but he plays along, sounding like a love struck newlywed. Back home, Yusef kisses Zainab on the cheek and she then kisses him on the lips. Yusef seems outraged, but when Zainab runs upstairs upset, he smiles.
Mandy returns then money she 'borrowed' from Ian, and reveals Paul's dropping the charges. She talks Ian into doing tequila shots and makes him eat half the worm from the bottle. Later, Ian returns from collecting Bobby to discover Mandy's bought water pistols. Soon, all three are soaked. Ian's smitten when Mandy kisses his cheek after he defends her to Janine.
Roxy's surprised when an estate agents sign appears outside her flat. Janine phones the agent then spots builders working at No.3.
Heather, Shirley and Phil are thrilled when Ben arrives home. Phil's disappointed that Ben wants to spend time with Jay, not him. Ben invites Jay, Abi, Lola and Duncan over. Lola asks if Ben feels like a spare part. Ben puts Lola in her place, insisting she has to take a step down the ladder now he's back. Later, Phil reveals he knows it was Peggy's idea Ben come home. They agree to a fresh start.
Last on
Credits
| Role | Contributor |
| --- | --- |
| Vanessa Gold | Zoe Lucker |
| Eddie Moon | David Essex |
| Carol Jackson | Lindsey Coulson |
| Dr Yusef Khan | Ace Bhatti |
| Zainab Masood | Nina Wadia |
| Ian Beale | Adam Woodyatt |
| Mandy Salter | Nicola Stapleton |
| Janine Malloy | Charlie Brooks |
| Phil Mitchell | Steve McFadden |
| Shirley Carter | Linda Henry |
| Heather Trott | Cheryl Fergison |
| Ben Mitchell | Joshua Pascoe |
| Jay Mitchell | Jamie Borthwick |
| Abi Branning | Lorna Fitzgerald |
| Lola Pearce | Danielle Harold |
| Duncan Willis | Steven France |
| Michael Moon | Steve John Shepherd |
| Roxy Mitchell | Rita Simons |
| Liam Butcher | James Forde |
| Bobby Beale | Alex Francis |
| Dr Leonard Graham | Tim Berrington |
| Executive Producer | Bryan Kirkwood |
| Director | Nic Phillips |
| Writer | Richard Lazarus |