Main content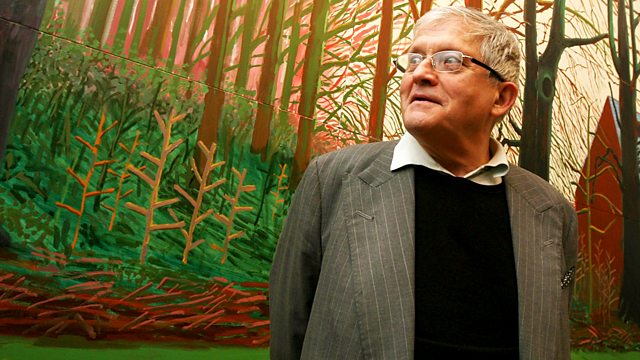 David Hockney; Mark Kermode
Mark Lawson talks to David Hockney; Mark Kermode discusses what is wrong with the movie business; Stephanie Flanders reviews a new TV drama about the 2008 financial meltdown.
With Mark Lawson.
David Hockney this morning announced a major new exhibition of his landscape works, which will open at the Royal Academy next January. The show will focus on his home county of Yorkshire, where he has recently spent six years painting, photographing, filming and creating artworks on his computer tablet. Hockney discusses his love of nature and the landscape in Yorkshire and Los Angeles where he also lives.
Mark Kermode is known for his straight-talking approach to films and the way the film industry operates and this forms the basis of his new book The Good, the Bad and the Multiplex: What's Wrong With Modern Movies? He's live in the studio to discuss the latest cinematic bêtes-noires.
Too Big To Fail is a new TV drama about the 2008 financial meltdown in the US, based on the book by Andrew Ross Sorkin, and starring James Woods, William Hurt and Cynthia Nixon. The BBC's economics editor Stephanie Flanders discusses the art of creating drama from a crisis.
Producer Claire Bartleet.
Last on
Chapters
David Hockney interview

David Hockney discusses his love of nature and the landscape in Yorkshire and Los Angeles where he also lives.

Duration: 13:27
Broadcast