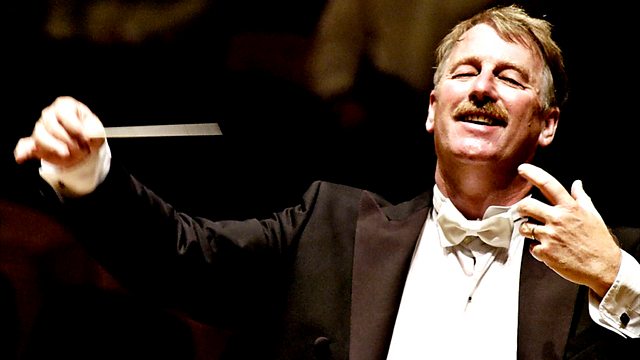 BBC PROMS 2011
Live from the Royal Albert Hall, London
Presented by Penny Gore
The BBC National Orchestra of Wales and Principal Guest Conductor Jac van Steen bring two dazzling concertos to the Proms. Canadian pianist Marc-André Hamelin displays his virtuosity in Rachmaninov's ever popular Rhapsody, and Proms featured organist David Goode plays Michael Berkeley's demanding concerto, which receives its London premiere. The programme includes two musical pictures: Elgar's Edwardian soundscape of Old London Town, and Kodály's suite Háry János, which brings to life the unlikely exploits of an old Hungarian hero.
Michael Berkeley had the cavernous space of Westminster cathedral in mind with his organ concerto, he was a choirboy there. A central theme is of fire, a force that cleanses and obliterates all in its path. The Royal Albert Hall, with its immense Henry Willis organ and generous acoustic should prove an ideal venue. A sense of ritual and religious theatre also comes from offstage trumpets, high in the gallery. Soloist David Goode has already delighted promenaders twice this season, in Janacek's Glagolitic Mass and Havergal Brian's Gothic Symphony. An exceptional talent, he remains undaunted by the challenges of the concerto.
Marc-André Hamelin has won great critical acclaim for his "jaw dropping technique" and "probing musicianship". He's been a tireless advocate of less familiar concertos, and he also is a composer. Here he brings his formidable talents to bear on a great favourite of the piano repertoire. Rachmaninov's Rhapsody is one of the most brilliant works for piano and orchestra, though with an underlying sense of devilry.
Elgar: Overture Cockaigne (In London Town)
Michael Berkeley: Organ Concerto (London premiere)
Marc-André Hamelin (piano)
David Goode (organ)
BBC National Orchestra of Wales
Jac van Steen (conductor)
This prom will be repeated on Monday 5 September at 2.00pm.
Last on
More episodes
Previous
You are at the first episode