Main content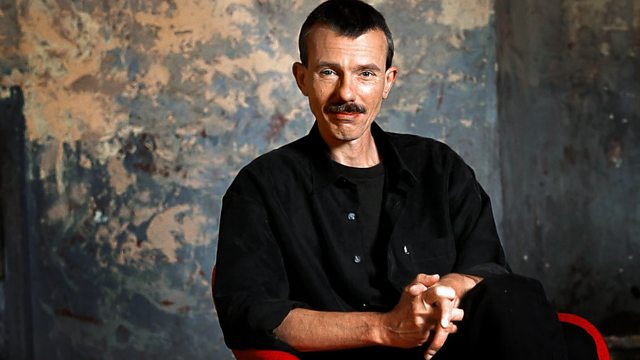 01/09/2011
Jonathan Swain presents a programme from the European Radio archives, featuring composers conducting or performing their own works.
The composer performs. Jonathan Swain presents a programme from European Radio archives. with music by Debussy, Grieg, Sibelius, Britten and Stravinsky
1:01 AM
Sibelius, Jean (1865-1957)
Andante Festivo
Helsinki Grand Radio Concert Orchestra , Jean Sibelius (conductor)
1:07 AM
Debussy, Claude (1862-1918)
La cathédrale engloutie
Claude Debussy (1862-1918) (piano)
1:13 AM
Debussy, Claude (1862-1918)
Soirée dans Grenade (No.2 from Estampes)
Claude Debussy (piano)
1:18 AM
Dohnányi, Ernõ (1877-1960)
Variations on a Hungarian Folk Song (Op.29)
Ernst von Dohnányi (1877-1960) (piano)
1:28 AM
Britten, Benjamin (1913-1976)
Symphonic Suite from the Opera 'Gloriana'
Peter Pears (tenor), SWF Symphony Orchestra, Benjamin Britten (conductor)
1:54 AM
Bartók, Béla (1881-1945)
Three Hungarian Folk Songs
Béla Bartók (piano)
1:58 AM
Lehár, Franz (1870-1948)
Overture to Zigeunerliebe
Saarbrücken Radio Symphony Orchestra, Franz Lehar (conductor)
2:07 AM
Granados, Enrique (1867-1916)
Quejas o la Maja y el Ruiseñor
Enrique Granados (1867-1916) (piano)
2:14 AM
Stravinsky, Igor (1882-1971)
Symphony in 3 Movements
Südwestrundfunk Symphony Orchestra, Igor Stravinsky (conductor)
2:36 AM
Scriabin, Alexander (1872-1915)
Poème in F sharp (Op.32 No.1)
Alexander Scriabin (1872-1915) (piano)
2:40 AM
Shostakovich, Dmitri (1906-1975)
Concerto for piano and orchestra no.2 (Op.102) in F major
Dmitri Shostakovich (piano), Sofia Philharmonic Orchestra, Konstantin Iliev (conductor)
2:57 AM
Grieg, Edvard (1843-1907)
Sommerfugl - from Lyric pieces, book 3 for piano (Op.43 No.1)
Edvard Grieg (1843-1907) (piano)
3:01 AM
Boieldieu, Adrien (1775-1834)
Concerto for harp and orchestra in C major
Suzanna Klintcharova (harp), Sofia Philharmonic Orchestra, Dimitar Manolov (conductor)
3:22 AM
Schumann, Robert (1810-1856)
Symphony No.1 in B flat major (Op.38), 'Spring'
Orchestre Nationale De France, Heinz Wallberg (Conductor)
3:56 AM
Spohr, Louis (1784-1859)
Fantasy, Theme and Variations a theme of Danzi in B minor (Op.81)
László Horvath (clarinet), New Budapest String Quartet
4:04 AM
Chopin, Frédéric (1810-1849)
Rondo à la Mazur for piano in F major (Op.5)
Ludmil Angelov (piano)
4:12 AM
Mokranjac, Stevan (1856-1914)
Third Song-Wreath
Karolj Kolar (tenor), Nikola Mitic (baritone), Belgrade Radio & Television Choir, Mladen Jagust (conductor)
4:21 AM
Bach, Carl Philipp Emanuel (1714-1788)
Trio Sonata in B minor (Wq.143)
Les Coucous Bénévoles
4:31 AM
Mozart, Wolfgang Amadeus [1756-1791]
Sonata for violin and keyboard (K.303) in C major
Tai Murray (violin), Shai Wosner (piano)
4:41 AM
Wassenaer, Unico Wilhelm van (1692-1766)
Concerto No.5 in F minor
Combattimento Consort Amsterdam, Jan Willem de Vriend (conductor)
4:52 AM
Sibelius, Jean (1865-1957)
Suite Champêtre (Op.98b)
Danish Radio Concert Orchestra, Hannu Koivula (conductor)
5:01 AM
Sorkocevic, Luka (1734-1789) arranged by Frano Matu?ic
Symphony No.3 in D major
Dubrovnik Guitar Trio
5:08 AM
Rossini, Gioacchino (1792-1868)
Lindoro's cavatina 'Languir per una bella' - from L' Italiana in Algeri, Act 1 scene 3 Francisco Araiza (tenor: Lindoro, a young Italian slave), Capella Coloniensis, Gabriele Ferro (conductor)
5:16 AM
Mendelssohn, Felix [1809-1847]
Prelude and Fugue (Op. 37) in G
Jan Kalfus (organ)
5:23 AM
Stainov, Petko (1896-1977)
The Secret of the Struma River
Gusla Men's Choir, Vassil Stefanov (conductor)
5:31 AM
Durante, Francesco (1684-1755)
Concerto per quartetto for strings no.6 in A major
Concerto Köln
5:42 AM
Mozart, Wolfgang Amadeus (1756-1791)
Rondo in A minor (K.511)
Jean Muller (piano)
5:52 AM
Verdi, Giuseppe (1813-1901)
Quartet for strings in E minor
Vertavo Quartet
6:17 AM
Beethoven, Ludwig van [1770 -1827]
Trio for oboe, cello and piano (Op.11) in B flat major (arr from violin / clarinet, cello and piano)
Alexei Ogrintchouk (oboe) , Katerina Apekisheva (piano), Boris Andrianov (cello)
6:38 AM
Bach, Johann Sebastian (1685-1750)
Suite for orchestra no.3 (BWV.1068) in D major
Norwegian Radio Orchestra, Kjetil Haugsand (conductor).