Main content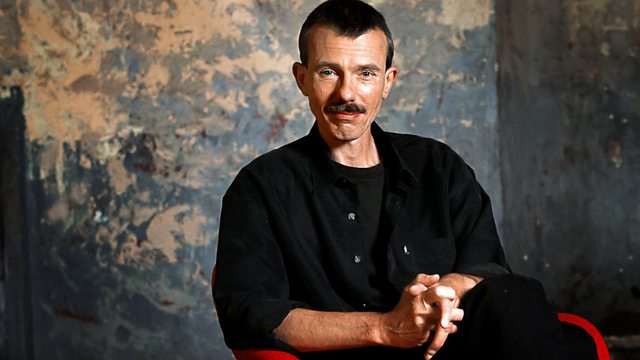 31/08/2011
Jonathan Swain's selection includes the Miro Wind Ensemble performing music by Francaix, Ligeti, Arnold and Paul Taffanel in Barcelona in 2009.
The Miró Wind Ensemble perform music by jean Francaix, Ligeti, Malcolm Arnold and Paul Taffanel recorded in Barcelona in 2009. Presented by Jonathan Swain.
1:01 AM
Francaix, Jean [1912-1997]
Quintet for wind no. 1
Miró Ensemble
1:22 AM
Elgar, Edward (1857-1934)
Serenade for Strings (Op.20)
Royal Academy Soloists, Clio Gould (director)
1:34 AM
Ligeti, Gyorgy [1923-2006]
6 Bagatelles for wind quintet
Miró Ensemble
1:47 AM
Peterson-Berger, Wilhelm (1867-1942),
Danslek ur 'Ran' (Singing Games from the opera 'Ran')
Swedish Radio Choir, Olov Olofsson (piano), Eric Ericson (conductor)
1:51 AM
Vivaldi, Antonio (1678-1741)
Concerto in D minor (Op.3 No.11) from 'L'Estro Armonico'
Tafelmusik Baroque Orchestra, Jeanne Lamon (conductor)
2:00 AM
Taffanel, Paul [1844-1908]
Quintet for wind in G minor
Miró Ensemble
2:25 AM
Arnold, Malcolm [1921-2006]
3 Shanties for wind quintet (Op.4)
Miró Ensemble
2:33 AM
Bizet, Georges [1838-1875]
Introduction to "Carmen Suite" for Wind Quintet
Miró Ensemble
2:36 AM
de Falla, Manuel (1876-1946)
Noches en los jardines de España
Filip Pavlov (piano), Sofia Symphony Orchestra, Ivan Marinov (conductor)
3:01 AM
Alfvén, Hugo (1872-1960)
Midsummer vigil - Swedish rhapsody no.1 (Op.19)
Danish National Radio Symphony Orchestra, Michael Schønwandt (conductor)
3:15 AM
Mozart, Wolfgang Amadeus (1756-1791)
Wind Serenade in C minor, K.388
Toronto Chamber Winds
3:40 AM
Beethoven, Ludwig van (1770-1827)
Sonata for piano no. 30 (Op. 109) in E major
Cédric Tiberghien (piano)
3:59 AM
Sibelius, Jean (1865-1957)
Serenade No.1 in D major for violin & orchestra (Op.69a)
Judy Kang (violin), Orchestre Symphonique de Laval, Jean-François Rivest (conductor)
4:07 AM
Brahms, Johannes (1833-1897)
Wie bist du, meine Königin (Op.32 No.9)
Urszula Kryger (mezzo-soprano), Katarzyna Jankowska (piano)
4:12 AM
Gotovac, Jakov (1895-1982)
Symphonic Dance 'Kolo' (Op.12) (1926)
Zagreb Philharmonic Orchestra, Kazushi Ono (conductor)
4:22 AM
Sermisy, Claudin de (c.1490-1562)
5 Chansons: (Paris 1528-1538)
Ensemble Clément Janequin
4:32 AM
Scarlatti, Domenico (1685-1757)
Sonata in C major (Cantabile) (Kk.132)
Andreas Staier (harpsichord)
4:39 AM
Schumann, Robert (1810-1856)
Overture - from the incidental music to Manfred (Op.115)
Sofia Philharmonic Orchestra, Rosen Milanov (conductor)
4:52 AM
Chédeville (Le Cadet), Nicolas (1705-1782)
Recorder Sonata in G minor (Op.13 No.6)
Ensemble 1700
5:01 AM
Sibelius, Jean (1865-1957)
Blow wind gently (Op.23 No.6b)
Pirkko Törnqvist (soprano), Finnish Radio Chamber Choir, Eric-Olof Söderström (conductor)
5:04 AM
Warlock, Peter (1894-1930)
Serenade for Strings (1921-22)
Manitoba Chamber Orchestra, Roy Goodman (conductor)
5:11 AM
Debussy, Claude (1862-1918)
Jardins sous la pluie (No.3 from Estampes)
Leif Ove Andsnes (piano)
5:16 AM
Bach, Wilhelm Friedemann (1710-1784)
Sinfonia in F major (1745) (F.67)
Akademie für Alte Musik Berlin, Stephan Mai (director)
5:28 AM
Handel, Georg Frideric (1685-1759)
Aria from 'Alessandro': 'Saro qual vento, che nell incendio spira'
René Jacobs (countertenor): Alessandro, La Petite Bande, Sigiswald Kuijken (director)
5:32 AM
Sibelius, Jean (1865-1957)
Symphony no.1 (Op.39) in E minor
Orchestre National de France, Charles Dutoit (conductor)
6:11 AM
Schumann, Robert (1810-1856)
Drei Fantaisiestucke (Op.73)
Algirdas Budrys (clarinet), Sergejus Okrusko (piano)
6:22 AM
Debussy, Claude (1862-1918) orch. Brewaeys, Luc (b.1959)
No.1 Brouillards - from Preludes Book II
Royal Flemish Philharmonic, Daniele Callegari (conductor)
6:26 AM
Auber, Daniel-Francois-Esprit (1782-1871)
Overture to 'Marco Spada'
Slovak Radio Symphony Orchestra, Ondrej Lenard (conductor)
6:37 AM
Mozart, Wolfgang Amadeus (1756-1791)
Piano Trio in G major (K564)
Ondine Trio
6:52 AM
Haydn, Joseph (1732-1809)
The Mermaid's song (H.26a.25) from 6 Original canzonettas
Elizabeth Watts (soprano), Mahan Esfahani (fortepiano)
6:56 AM
Strauss, Johann II (1825-1899)
Unter Donner und Blitz (Thunder and lightning) - polka (Op.324)
BBC Philharmonic, Vassily Sinaisky (conductor).