Main content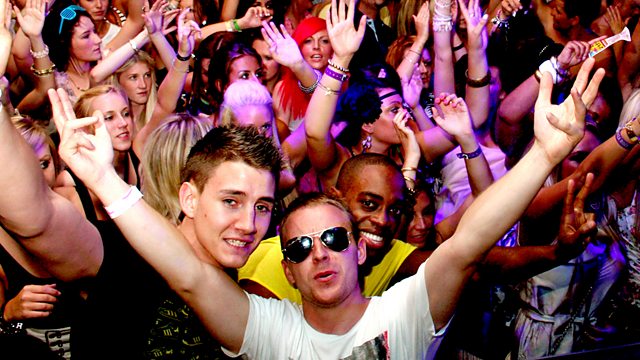 Ibiza: Britain's Balearic Soul
4 Extra Debut. Kate O'Brien explores Ibiza's influence over British youth culture and nightlife, and the rise of the Superstar DJ. From August 2011.
The island of Ibiza has subtly influenced British youth culture and the nation's night-time economy for more than 20 years.
The Balearic attitude to nightlife and entertainment was first adopted in Britain during the late 80s and soon many young Brits would no longer be divided by class, race, football allegiances or even sexuality, instead becoming united by their devotion to house music, recreational drug taking and warehouse parties or raves.
By the mid-90s, millions of ordinary young people spent their weekends 'dancing on drugs' and, as alcohol sales dropped and customers fell away, the licensed leisure industry replaced so-called spit 'n' sawdust pubs with more modern bars while bottled beers and alcopops became the new drinks of choice. With Radio 1 broadcasting live from the world's house music clubs, dance music culture moved into the mainstream and has stayed there ever since.
In 'Ibiza: Britain's Balearic Soul' Dr Kate O'Brien meets those at the heart of these changes. Internationally celebrated DJ Paul Oakenfield shares with Kate his first experience in Ibiza and how he tried to recreate the island's bohemian, hedonistic party scene, while Radio 1's Pete Tong explains how he pushed the station into being part of this unrelenting youth movement.
Kate also hears from a former Chief Constable on his struggle to manage 40,000 party-goers at an all-night rave, and experts on alcohol and drug consumption tell how society and government reacted to the 'normalisation' of recreational drug taking and young people's determined move away from the limitations of licensed premises over two decades.
The history of British dance culture and clubbing is complex and fascinating, and Kate explores its impact on young people's identities and lifestyles since the late 1980s
Producer: Russell Crewe
A Made in Manchester Production for BBC Radio 4.