Main content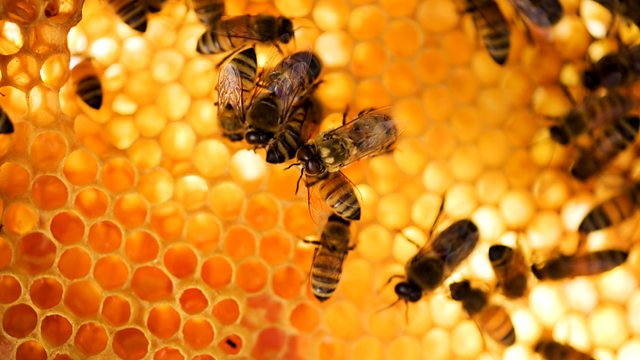 Spirit of the Beehive
4 Extra Debut. A composed feature by Nina Perry exploring our enduring relationship with the mysterious honeybee. From September 2011.
Nina Perry's composed feature 'Spirit of the Beehive' explores our enduring relationship with the honeybee, lifting the lid of the beehive to hear some surprising lessons to be learnt through observing and working with bees, as well as how the life of bees inspires human endeavours in the arts and in business.
We follow a group of young people from Hackney in London who are passionate urban beekeepers. They work for The Golden Company, a social enterprise taking their beekeeping to new heights by installing bees on the roof of investment bank Nomura - where the bees are seen as a symbol of productivity and growth in the city.
Scientists at Sussex University explain how they are looking at ways to help the honeybee by eavesdropping in on their communication system, the waggle dance. We peek inside the bee-inspired Parisian Artist community La Ruche (the beehive) and are led through the bee sanctuary of the Natural Beekeeping Trust to discover the virtues of listening to bees.
Musician: Oli Langford (Violin)
Composer: Nina Perry
Producer: Nina Perry
A Falling Tree Production for BBC Radio 4.